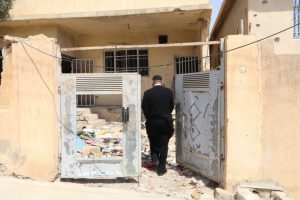 Christians are beginning to return home to towns and cities in the Nineveh Plains region that have been liberated from Islamic State militants. These include Qaraqosh, the largest of Nineveh's Christian towns, and Bashiqa, where a priest is pictured entering a damaged house.
Islamic State (IS) took over the towns and villages in the summer of 2014, driving out more than 130,000 Christians from Mosul and the Nineveh Plains. The towns and villages were liberated in late 2016 and early 2017, and Christians are coming home, but IS carried out widespread destruction of homes and churches during the occupation and as the militants left, and much rebuilding is needed.
Between 1,500 and 2,000 families – up to 10,000 people – are reported to have returned to Qaraqosh, with at least another 500 families – 2,500 people – expected by the end of September.
"I am optimistic, yes, very optimistic," says Yohanna Petros Mouche, Syriac Catholic Archbishop of Qaraqosh. "When you look around the villages you see that life is back again."
On 10 September, hundreds of Christian families celebrated their homecoming with ceremonies marking a fresh start. They processed through the streets of Qaraqosh, holding olive branches and chanting hymns in Aramaic, the language spoken by Jesus Christ. The Christians, protected by security personnel in armoured vehicles, converged on the town centre, where they held a service in a church building that Islamic State militants had burned.
During the ceremony, the Middle East projects coordinator of Aid to the Church in Need (a charity that is repairing churches and hundreds of homes in Nineveh's Christian-majority towns and villages) called on Christians to forgive those who had attacked their towns and villages and forced them out of their homes.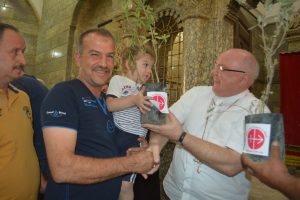 Fr Andrzej Halemba said, "Of course we cry when we see the violence that has been carried out but we should remove the anger in our hearts. There should be no hatred in our hearts. We should reconcile with our neighbour."
After the service, Fr Andrzej distributed olive trees symbolising the Christians' return to their roots. Earlier that day, he distributed olive trees in Bartela, a largely Syriac Orthodox town near Qaraqosh ­– he is pictured giving a tree to a Christian family at St George's Church in Bartela.
Centres for Support and Encouragement
In Qaraqosh, local priest Fr George has helped facilitate the return through a Centre for Support and Encouragement. This project runs centres in Nineveh's liberated towns to help returning families co-ordinate the rebuilding of destroyed homes. He reports: "Some fifty people a day register at our centre to have their homes restored. More will come."
Workers at the centre have determined the level of repair of 6,936 damaged homes in Qaraqosh, each categorised as level A-C, depending on damage. Fr George explains: "Level C means that the home is damaged, but can easily be repaired with US$5,000 or less. Level B homes are fully burned from the inside or are more damaged in other ways. Level A means that a home is fully destroyed, collapsed because of a bomb, for example. In Qaraqosh we have 4,774 level C, 2,046 level B and 116 level A."
A report for each home lists every broken door and window or hole in the wall, so when its owner wants to return to Qaraqosh, the centre's committee can estimate repair costs. When a repair grant is approved, the family gets the money and is responsible for arranging repairs – the centre keeps a list of tradesmen ready to take on the work. The family must give the centre all receipts for work done and return any money not spent. Some families add savings towards rebuilding.
A similar centre in Bashiqa, 32 km north of Qaraqosh, also operates as a base where families can sleep while they restore their homes. Islamic State destroyed doors and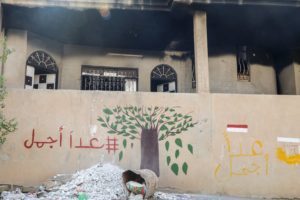 windows in many homes but they have been replaced using funds from the Bashiqa centre. A priest at the centre, Fr Poulos, says: "The first 52 houses have been restored. We will now start with another 30 houses."
The image shows the wall around a house in Bashiqa that was burned by retreating IS forces. The Arabic graffiti reads: "Tomorrow will be more beautiful."
Security concerns
While Christians are slowly returning to their homes in the Nineveh Plains, many will not return because of the lack of security and the high cost of rebuilding.
A Bashiqa resident said that during the four months it took to restore his home, he needed to be armed in case of attack – a Kalashnikov rifle stands in the corner of his living room. "I wanted to be able to protect myself," he said. "This was a new house when IS came. We had only lived here for six months before we had to flee to Dohuk. We were the first family to return here." His wife and three children joined him once the house was repaired.
Christians who fled Iraq's capital, Baghdad, would still be vulnerable if they returned, according to Al Arabiya. Shop owners report having to pay protection money and it is not safe for Christian girls to walk alone in some neighbourhoods.
Most of the returning Christians had fled to the Kurdistan Region of Iraq (KRI), finding refuge in Dohuk and Erbil, the Kurdish capital. KRI was considered to be a relatively safe haven for minorities, but recently the US Commission on International Religious Freedom reported a growing threat from extremism in the region.
Many other Christians fled the country. A report published in June 2017 says that Iraq's Christian population has reduced from "well over 300,000" in 2014 (when Islamic State advanced) to 200,000-250,000. Iraq's Christian population had already declined from about 1.5 million in the 1990s.
Read more about the persecution of Christians in Iraq.
(Aid to the Church in Need/Religious Liberty Prayer Bulletin/World Watch Monitor)
Share this