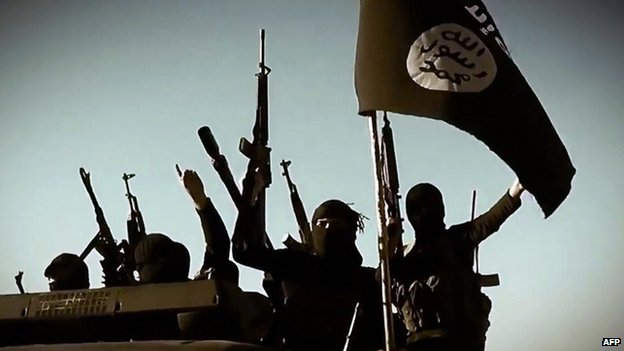 Thousands of Christians have fled for their lives as the militant Islamic State (IS) group advanced on the town of Qaraqosh in northern Iraq. Qaraqosh (population 50,000) – referred to as Iraq's Christian capital – is located 30km southeast of the city of Mosul, which was captured by IS in June.
Kurdish fighters had been protecting Qaraqosh but withdrew last night (6 August) and it is reported that Islamic State fighters took over the town overnight. Eyewitnesses in Qaraqosh said IS militants were taking down crosses in churches and burning religious manuscripts.
"I now know that the towns of Qaraqosh, Tal Kayf, Bartella and Karamlesh have been emptied of their original population and are now under the control of the militants," said Joseph Thomas, the Chaldean archbishop of Kirkuk and Sulaimaniyah. "It's a catastrophe, a tragic situation. We call on the UN Security Council to immediately intervene. Tens of thousands of terrified people are being displaced as we speak, it cannot be described."
Tal Kayf, the home of a significant Christian community as well as members of the Shabak Shiite minority, also emptied overnight.
"Tal Kayf is now in the hands of the Islamic State. They faced no resistance and rolled in just after midnight," said Boutros Sargon, a resident who fled the town and was reached by phone in Erbil. "I heard some gunshots last night and when I looked outside, I saw a military convoy from the Islamic State. They were shouting 'Allahu Akbar' (God is greatest)."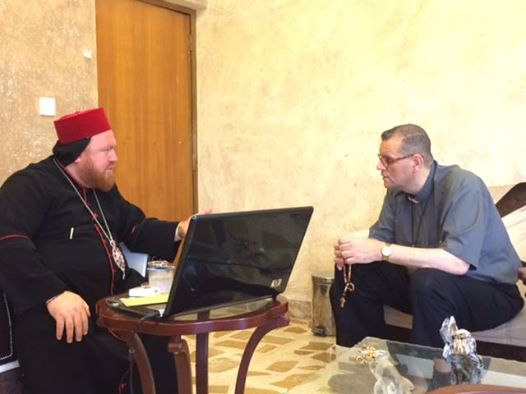 Canon Andrew White (known as the Vicar of Baghdad) is currently in Erbil where he has met Mar Dawood the Syrian Orthodox Archbishop (pictured). Andrew reports:
"The Massacre of all continues. We are now in Erbil supporting various church leaders here… what we have heard from some of the Church leaders is more than horrendous. Just like last week I felt I could not show the pictures so today I feel I cannot tell the whole story especially about the children… This is supposed to be the one safe area in Iraq but yesterday evening the whole of Erbil went into total panic with news that ISIS was moving towards Erbil. It is not here yet but it may indeed be on its way. Meanwhile over a hundred people were killed in Baghdad last night."
Mark Arabo, a prominent Chaldean-American leader, has said that the world should come together to stop these crimes against humanity and help alleviate the sufferings of the Iraqi people.
"The world hasn't seen this kind of atrocity in generations. This is a crime against humanity. This is much broader than a community or a state. This is crime against humanity. They [Islamic State] are doing the most horrendous, the most heart-breaking crimes that you can think of. This is a Christian holocaust in our midst – this should never be happening in 2014. This living nightmare is not going away, but it is only getting worse. The world cannot turn a blind eye."
(AFP, BBC, Gospel Herald, Middle East Eye)
Church in Chains and Evangelical Alliance Ireland have written a joint appeal to Charles Flanagan, Minister for Foreign Affairs and Trade, asking the Irish government to offer asylum to Iraqi Christians and calling on the Irish government to play a part, together with EU partners, in helping Iraqi Christians in this emergency.
Church in Chains has sent €4,575 to assist Iraqi Christians (via our partners, Barnabas Fund).
Share this