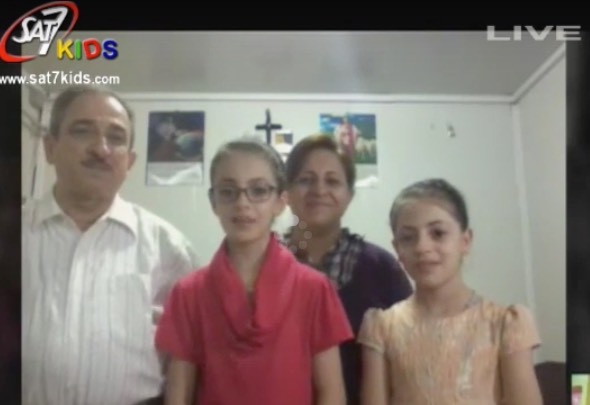 Miriam, a twelve-year-old displaced Iraqi Christian girl, has said that she can't wait to go home to Qaraqosh when the liberation of the Mosul area is completed.
Miriam and her family spoke to the Christian television station SAT-7 from Ankawa, a suburb of Erbil in Iraqi Kurdistan, where her family have been refugees for the past two years. Excitement soared among the tens of thousands of displaced Christians there as news broke that Iraqi coalition troops were retaking Christian villages previously overrun by Islamic State militants.
SAT-7 KIDS presenter Essam Nagy first spoke to Miriam in December 2014 on a reporting visit to Erbil. Miriam's words of forgiveness for Islamic State militants, who had driven her family to flee first from Qaraqosh and then from Mosul, drew attention and praise from Middle East news sites as well as sites in the West.
"Surely I am happy and joyful to return home and see my friends who didn't leave," Miriam said. "I'll get to see them again. I'll see my home and my country again, the place that I love."
Waleed, Miriam's father, said, "There are no words to express how we feel. But we say in Iraqi, Wenseh, which is the feeling we have when we are home. It doesn't matter if [we are living] amidst destruction."
Miriam's mother Alice said, "When we left Qaraqosh my daughters asked me why I didn't take some soil from Qaraqosh or Baghdeida [its Syriac name] where we lived. This touched my heart and I wished we could return and see and smell the soil of the land. What is most important to us is returning home to see our families. Then my daughters can once again see their country."
Essam commented on the "abundant peace" he always noticed in Waleed's heart and asked if this would grow when he returned home. Waleed said no. "Peace is the peace of Jesus and not worldly peace," he said. "Peace isn't in a house or in the land.  Even in fire you can have the peace of Jesus. As long as we have it we will be stronger than those who threw us out. When you love Jesus, no one can conquer you." At the close of the interview the whole family sang the worship song, How Joyful is the Day, which went viral on the original interview with Miriam.
Miriam's family originally fled to the city of Mosul with most of the Christian population of Qaraqosh, 32 kilometres to the south-east. All but a few families of Mosul's Christians fled the city when Islamic State overran it in July 2014.
Iraqi government-allied troops retook the centre of Qaraqosh on 22 October 2016 after fighting in which 18 soldiers were killed, and around 80 wounded and church leaders were among the first inhabitants to return.
THE CROSS RISES AGAIN OVER QARAQOSH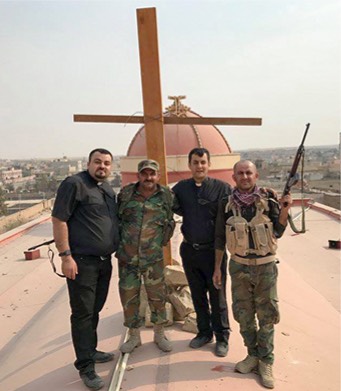 Father Ammar, a priest of the Syriac Catholic Church, returned to Qaraqosh and with the help of soldiers he and a colleague raised the cross again on the roof of his church. He says: "Thanks to God… It was a wonderful day to see Qaraqosh. Yes they destroyed and burned houses and churches but of course we will fix it again."
In the spacious courtyard next to the church, where the Christians of Qaraqosh used to gather for religious festivals, Islamic State militants set up mannequins for target practice, and empty cartridges litter the stone floor. It is believed that they stored weapons and ammunition in the church, knowing that it would not be bombed by the coalition.
PRIEST STRESSES SECURITY NEED
Father Thabet, a priest from Mosul, said, "It is great that the liberation comes at this time after two years have passed, but our joy will be complete when everyone is back home safe and secure." However, he stressed that a lot needed to be done before the people could be encouraged to go home. "We need to make sure the liberation process is final and the area is secure and the path to return is safe as well as adjust the infrastructure and stabilise the economic situation.
"We want to double our prayers in order to have stability in Mosul so it becomes better than it was."
The campaign to retake Mosul, Iraq's second city, is continuing and the United Nations has stated that Islamic State militants has snatched "tens of thousands" of men, women and children from areas around Mosul and was using them as human shields in the city as government forces advanced.
(SAT-7 UK, Daily Beast, Open Doors, Al-Jazeera)
Share this