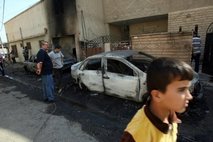 At least 5 people were killed when a series of ten explosions targeted six Christian neighbourhoods across central Baghdad early on the morning of Wednesday 10 November.
33 people were injured, including a 4-month-old baby, when mortar shells damaged two houses and home-made bombs damaged eight others. The attacks followed the killing of two Christians in separate incidents earlier in the week in Baghdad and came ten days after the massacre of 31 October 2010 at the Church of Our Lady of Salvation in Baghdad. On that occasion, the Church of Our Lady of Salvation in Baghdad was seized and besieged by Islamist militants and then stormed by troops, resulting in the deaths of more than 50 people and serious injuries to 67 others. Services resumed in the damaged building on Sunday 7 November, and on 8 November Prime Minister Nouri Maliki visited the church.
Two days after the church massacre, the Islamic State of Iraq (an Al-Qaeda front that had claimed responsibility) threatened further violence, saying that Christians everywhere were "legitimate targets". The group stated that its objective is the removal of all Christians from Iraq, and announced its intention to unleash upon Christians "the doors of destruction and rivers of blood".
Survivors desperate to escape Iraq have been contacting foreign embassies, particularly the French, which had helped about 40 people wounded in the church massacre to receive medical treatment in France – the Immigration Minister had said that asylum would be granted to those who sought it.
"It's not worth staying in a country where the government is not even able to protect you when you are sitting in your house," said Juliet Hana (33). She was eating breakfast with her young daughter when the bombs began to detonate in nearby houses.
Those who flee to the northern Kurdish areas face discrimination for being Arabs and for being Christians. This makes it difficult to find work, so many have to return home. Many of those who flee to neighbouring countries also face discrimination and economic hardship.
Religious and political leaders in Iraq have called for increased security measures
and have urged Christians not to leave. Athanase Matoka, Syrian Archbishop of Baghdad, called on the international community "to take care of the security of the Christians", while the Vatican called on the Iraqi government to do more to protect Christians. A senior cleric in Baghdad called for Christians to stay and bear witness to the faith, adding, "But people are human, and we can't stop them leaving."
However Archbishop Athanasius Toma Dawod, Archbishop of the Syriac Orthodox Church, urged Christians to flee Iraq. Addressing a meeting in London he said, "If we stay, they will kill us." He warned of a pending "genocide" and said that the only hope of salvation for Iraqi Christians lies with Britain and other EU states. "The Iraqi government is weak, biased, if not extremist," he said. "I ask the British government again to help the Iraqi Christians and grant them the rights of humanitarian asylum." In a statement to CNN, the Archbishop said, "I say clearly and now – the Christian people should leave their beloved land of our ancestors and escape the premeditated ethnic cleansing. This is better than having them killed one by one."
Dr Patrick Sookhdeo, International Director of Barnabas Fund, said, "My heartfelt prayers go out to the Baghdad Christian community, which is clearly under siege by Islamist militants who want to rid the entire country of Christians. I fear these latest attacks may precipitate the end of the Church in Iraq."
At least 500,000 Christians have already been driven out of Iraq by Islamist extremists since the war began in 2003.
(AP, BBC, CNN, Barnabas Fund, Guardian, Middle East Concern, Telegraph)
Share this