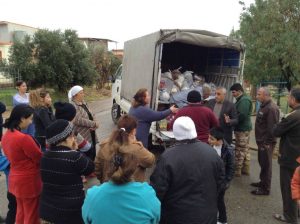 "Christmas Blessing", an aid project for displaced Christians in northern Iraq, is underway. Scottish charity Steadfast Global's project is bringing aid to Christians who are facing their third Christmas away from their homes in the Nineveh Plains region. They were forced to flee during the advance of the Islamic State (IS) terrorist group in 2014, and took refuge in the relative safety of the autonomous Kurdistan Region.
Steadfast Global, a Church in Chains partner, is coordinating the distribution of aid to 250 families, using local partners to pack and deliver the goods. Each family will receive a gift bag containing seasonal ingredients for baking Christmas treats, small toys for children in the family and some every-day essentials.
While many displaced Christians are still in Kurdistan, hundreds of Christian families began returning home to the Nineveh Plains region earlier this year as IS was pushed out of Iraq. Homes and schools in the region have been repaired and schools have reopened, although with smaller numbers of pupils and not enough teachers.
On Saturday 9 December, Iraqi Prime Minister Haider al-Abadi (pictured) announced that Iraq's war against IS is over. He told a conference in Baghdad: "Our forces are in complete control of the Iraqi-Syrian border and I therefore announce the end of the war against Daesh [IS]. Our enemy wanted to kill our civilisation, but we have won through our unity and our determination." The Iraqi armed forces issued a statement saying Iraq had been "totally liberated" from IS.
Victory came gradually over the past two years, as IS was pushed out of the large swathes of territory it had taken in Iraq and Syria. Significant victories included the retaking of Iraq's second city of Mosul in July 2017 and the retaking of the de facto IS capital Raqqa in northern Syria last month. Some of the terrorists have reportedly dispersed into the Syrian countryside, while others are believed to have escaped across the Turkish border.
Fear and uncertainty
Christians returning to the Nineveh Plains, however, are fearful and uncertain as to whether it is yet safe to rebuild their lives there. They fear the threat of suicide bombings by IS sleeper cells, and they are caught in the crossfire of recent fighting between Iraqi and Kurdish forces – fighting that has destabilised the Nineveh Plains again to the extent that thousands of Christians have fled, with a new wave seeking refuge in Kurdistan. This conflict arose as the Iraqi army sought to push the Kurds out of areas they had seized during the IS years, when the Iraqi army fled during the terrorists' advance.
A peace agreement was brokered between the Iraqi and Kurdish forces on 29 October, and two days later the Kurds started to withdraw from parts of the Nineveh Plains that were under their control. On 16 October, Iraq took back control of Kirkuk, which the Kurds had controlled since mid-2014.
On 25 October, about 900 families fled when the predominantly Christian villages of Bakufa, Batnaya and Telskuf were shelled. They took refuge further north with the Christian community in al-Qosh: in one refugee camp that had almost emptied in the previous months, all forty caravans have filled with families from those three villages.
For displaced Iraqis remaining in Kurdistan, the government's opposition to the Kurdistan Regional Government's move towards independence has caused problems. Kurdistan voted overwhelmingly for independence in September's referendum, and in response the Iraqi government put in place punitive measures including a ban on international flights into Kurdistan that is hindering aid from reaching displaced people in the region. The flight ban ended the plans of a Steadfast Global team to travel to Kurdistan on 25 October to conduct medical clinics and to provide trauma care training for local volunteers working with victims of IS.
UN petition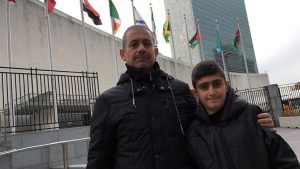 On 12 December, a petition signed by more than 800,000 people in 143 countries was presented at the UN in New York, calling for the protection of Christians and other minorities in Iraq and Syria, and recognition of the key role of religious leaders. Called "Hope for the Middle East", the petition was presented to representatives of the UN General Assembly, diplomats and members of other international bodies by 12-year-old Noeh and his father Hathem (pictured) from Karamles in northern Iraq.
The petition, an initiative of the charity Open Doors International, calls on the UN and other decision-making bodies to collaborate with religious leaders and organisations in establishing and maintaining peace and rebuilding Syrian and Iraqi societies. It says there is a need for legal frameworks that protect the rights of all citizens, irrespective of race and religion.
Noeh's family was among the many Christian families from Karamles that fled to Kurdistan in 2014, and theirs is one of 270 families that have returned to Karamles. Noeh's school has reopened, but he and his family are staying with his aunt while they save money to rebuild their home, which IS terrorists burned down.
Christians key to the future of Iraq
On 30 November, a UN panel met to discuss the aftermath of the IS occupation in the Nineveh Plains. The event, held at UN headquarters in New York and hosted by various Catholic groups, was titled "Preserving Pluralism and Diversity in the Nineveh Region" and the panelists emphasised that pluralism and diversity are crucial to the successful future of Iraq, with a particular emphasis on local minorities.
Archbishop Bashar Warda of Erbil noted that Christians are a "key partner for the future of pluralism in Iraq" and should be considered "part of the solution, not part of the problem, in terms of bringing peace and humans rights" to the country.
Read more about the persecution of Christians in Iraq.
(BBC/CNA/Open Doors/Steadfast Global/World Watch Monitor)
Share this