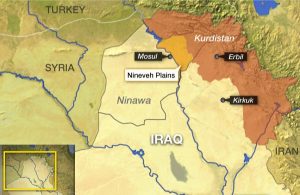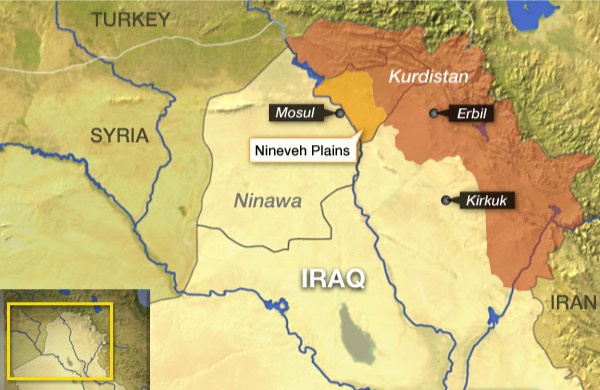 The future is uncertain for the Iraqi Christians driven from their homes in the Nineveh Plains region by Islamic State militants almost four years ago. Although the militants were defeated in 2017, the vast majority of Christians are still unable to return to their homes because of damage, destruction and fear of unexploded bombs, suicide bombings by Islamic State sleeper cells and hostility from Muslim neighbours. Many Christians have lost hope of ever being able to go home.
The Nineveh Plains region lies in the east of Nineveh (Ninawa) Governorate, which has Mosul – Iraq's second largest city – as its provincial capital. Most of the large Christian community in Mosul and in the surrounding towns and villages in the Nineveh Plains fled in advance of the Islamic State takeover in June 2014; the rest left in July and August following an ultimatum that they convert to Islam, pay a religious tax or face death.
The Iraqi army and allied forces liberated Mosul in July 2017, but while some Christians have been able to return to their homes in Christian villages surrounding Mosul, few have returned to the city itself.
In early March 2018, Kurdish news agency BasNews, in a report titled Christians Unwilling to Return to Mosul, quoted Deputy Governor of Nineveh Province Abdulqader Shingali as saying: "It is obvious that the greatest damage in Mosul is brought to Kurdish Yazidis, Shabak and Christians by the Daesh [Islamic State]. Therefore, no Kurdish Yazidi, Shabak and Christian has yet returned to the city." (Shabaks are members of a Shia sect living in villages east of Mosul.)
Khalis Ishou, head of the Shlomo Organisation, which documents violence against Christians, told BasNews that Christians forced out of Mosul have been "left with no choice to return to their area of origin".
About 20 km east of Mosul, in the Nineveh Plains town of Bartella, four children were injured on Easter Monday when a bomb exploded outside a medical complex. It is believed Islamic State militants were responsible – they continue to launch sporadic attacks across Iraq. Before the arrival of Islamic State, Bartella was largely inhabited by Syriac Orthodox Christians, but in August 2014 many of its 2,000 Christian families fled 70 km east to the Kurdish capital Erbil to find refuge, and only a small number have returned.
Return to Qaraqosh
One place where Christians have felt able to return is the city of Qaraqosh, southeast of Mosul in the Nineveh Plains. Qaraqosh used to be home to 50,000 Christians and was known as Iraq's Christian capital, but in August 2014 thousands of Christians fled just before IS militants took control. The city was retaken in October 2016, and about 5,000 families have returned. With the help of local churches and other organisations they have repaired their homes and are attempting to rebuild their lives.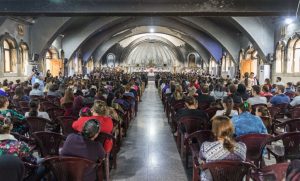 On Palm Sunday (25 March), thousands of Christians held a march through the streets of Qaraqosh, waving palm and olive branches and singing Christian songs, culminating in an open-air service on the square of St John's Church. The photo shows an Easter service in Mar Behnam Church in central Qaraqosh.
Displaced Christians
Many displaced Christians fled to the relative safety of Kurdistan in northeastern Iraq (the semi-autonomous Kurdish Autonomous Region, governed by the Kurdish Regional Government based in Erbil) and over 100,000 Christians are still there. Some hope to go home eventually, but some want to stay in Kurdistan and make a new life there, while others hope to move to the West. Many other Iraqi Christians are refugees in neighbouring countries and hope eventually to move to the West, especially Australia and Canada.
Some Christians in Kurdistan are still in small pockets in UN camps but most are in Christian villages, living in UN tents, unfinished homes that were being built when the Islamic State takeover began, or rented accommodation.
Church in Chains' partner organisation Steadfast Global works with a local charity in the Kurdish region to bring aid, medicine and teams of medical volunteers to about 2,000 of these Christian families (representing over 12,000 people) in 47 villages. The partners operate a successful micro-loan initiative and are working towards a solution to the long-term housing needs of the displaced Christians.
A Steadfast Global team travelled to evaluate the situation in February 2018, and plans to visit the region again in June 2018 with a medical team to provide medicine, personal hygiene packs, food and micro-loans.
As well as practical aid, discipleship programmes are underway among new Christians from Muslim, Yazidi and nominal Orthodox backgrounds who testify that they were attracted to Jesus because of the practical love Christians showed them in their suffering.
Read more about the persecution of Christians in Iraq.
(Assyrian International news Agency/Bas News/Steadfast Global/World Watch Monitor)
Share this