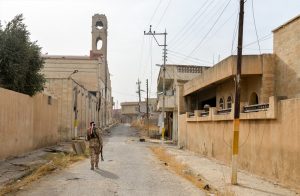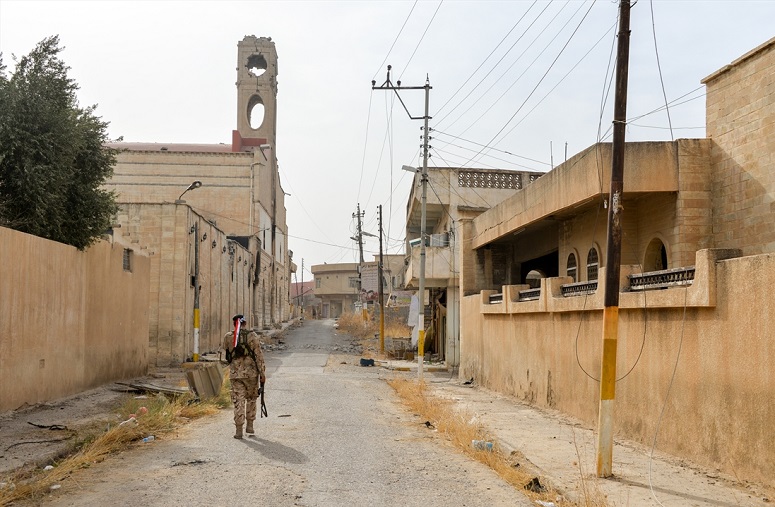 A new report estimates that 50-80% of the Christian populations of Iraq and Syria have emigrated since the start of the Syrian civil war in 2011.
The report, "Understanding recent movements of Christians from Syria and Iraq to other countries across the Middle East and Europe", was produced by Christian charities Open Doors, Served and Middle East Concern. It investigates Christians who have left Syria and Iraq or have been displaced internally since the beginning of the war in Syria in 2011 and the expansion of Islamic State in northern Iraq in 2014.
The report, published exactly three years after Islamic State took control of Mosul, says the arrival of IS was only the tipping point of a trend already gathering pace as Christians experienced an "overall loss of hope for a safe and secure future". It notes that for Christians who have settled elsewhere there is "little incentive" to return, with several interviewees saying, "the Middle East is no longer a home for Christians".
The image shows a soldier near Tahira church on the empty streets of Qaraqosh (a predominantly Christian city in Iraq approximately 30km southeast of Mosul) after Qaraqosh was liberated from Islamic State in October 2016.
Major findings
The report acknowledges the difficulty of producing figures but derives estimates from a range of sources including NGOs, academics and religious leaders working with refugees.
The report estimates that in Syria the Christian population of around two million in 2011 has "roughly halved". It finds that in Iraq the Christian population has reduced from "well over 300,000" in 2014 (when Islamic State advanced) to 200,000-250,000 today, a loss of around 100,000 Christians. Iraq's Christian population had already declined from 1.4-2 million in the 1990s.
While a greater number of Syria's Christians has left, a greater proportion of Iraq's Christians has left, and most Christians who remain in Iraq are displaced internally.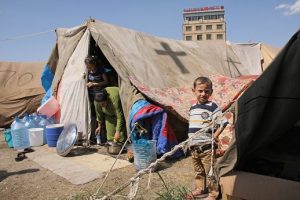 (The image shows Christian refugees in a camp for internally displaced people in a church yard in Erbil, Iraq.)
The report investigates the factors driving Christians out, and states: "Factors for leaving included the violence of conflict, including the almost complete destruction of some historically Christian towns in the Nineveh plains of northern Iraq, the emigration of others and loss of community, the rate of inflation and loss of employment opportunities, and the lack of educational opportunities. While direct violence, such as the movements of ISIS in both Iraq and Syria, was the tipping point for displacement, the ultimate decision to leave the countries was portrayed as an accumulation of factors over time."
Christians have emigrated via routes that include resettlement programmes through churches, family reunification and refugee registration, and also via "illegal routes", although drownings in the Mediterranean have dissuaded some, while "the high price of these routes have made them unavailable for others".
Lebanon has taken in the most Christians, while thousands more have resettled in Jordan and Turkey, and a smaller number in European countries, especially Sweden and Germany. However, the report states: "Recent policy changes, as well as living conditions, have made arrival or staying in many of these countries, such as Sweden, incredibly difficult."
Regarding the possibility of returning home, the report comments: "There were reports of returns, but many expressed the sentiment that Christians have given up hope of returning."
Accountability mechanism
In a policy paper released alongside the report, the three charities call on the EU to help establish an accountability mechanism to deal with incidents of religious and ethnic persecution and discrimination in Iraq and Syria. The purpose of this proposal is "To ensure that the current and future legal frameworks in Syria and Iraq fully promote and protect the equal and inalienable rights of all their citizens, irrespective of race, religion or other status."
The paper states: "It is estimated that between 50- 80 per cent of the Christians in Iraq and Syria have left their countries since violence accelerated. The major factor for this devastation is the sense of powerlessness and hopelessness caused by losing faith in a system that has failed to provide them with dignity, equality, and a safe and secure future for their children in the countries where they belong.
"Creating a national accountability mechanism for grievances is a long-term solution which aims to restore faith in a system that ensures all religious and ethnic communities are affirmed as equal citizens and deserving of protection, while also deterring negative actors from taking adverse actions against these communities."
While endorsing and welcoming the European Parliament Resolution of October 2016 on the situation in Northern Iraq and Mosul, and the European Commission's Strategy for Syria presented in March 2017, the charities also strongly urge that an additional element should be included in the strategy: "the establishment of a national, locally-owned accountability mechanism to deal with incidents of persecution and discrimination against religious and ethnic communities in Iraq and Syria through a holistic approach of enforcement, deterrence and awareness… We urge the EU to sponsor the establishment of transparent and inclusive national accountability mechanisms in Iraq and Syria."
The charities urge the EU to use its influence by (i) "Advocating for the establishment of this mechanism through its contacts with the Iraqi and Syrian governments" and (ii) "Providing funding, technical support and monitoring assistance".
Christians excluded from reconstruction plans for northern Iraq      
In January 2017, a UK coalition of 16 NGOs working in Iraq and Syria issued a report, "Ensuring Equality", which states that it is clear that leaders of religious minority communities are being excluded from the National Settlement Plan being put together by Iraq and other regional powers and presented to the UN, making it even less likely that Christians would return after the ousting of Islamic State.
This report points out that it is vital that Christians and other minorities have support for their political and security concerns if they are to feel sufficiently reassured to return to Mosul or the surrounding Nineveh Plains region and rebuild their communities. "This must include full citizenship status and the rebuilding of churches and community centres," says the report.
Ensuring Equality says Christians are not being supported by institutions such as the UN High Commissioner for Refugees (UNHCR), and have to rely on churches that have limited funds. They NGOs all stated that the vast majority of Christians and other minorities avoid UNHCR camps because of discrimination and persecution. The report notes, "It is utterly unacceptable that a place of sanctuary should be a place of fear that repels those it is designed to save and protect." It says that those who remain outside UNHCR camps "have fared … unequally in the allocation of international aid, funding, political support, media attention, and asylum placements".
The report urges the UNHCR to employ more non-Muslim registration and security staff and interpreters, to reduce discrimination against non-Muslims, and says the UNHCR should give converts from Islam to Christianity urgent protection because they "face a high risk of assassination – even at the hands of fellow migrants in Europe".
(National Accountability Mechanism for Iraq and Syria – proposal for EU Parliament, June 2017; Understanding recent movements of Christians from Syria and Iraq to other countries across the Middle East and Europe, June 2017; World Watch Monitor)
Share this