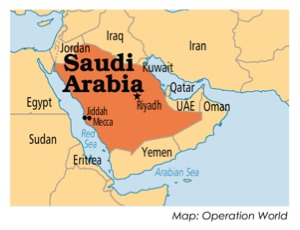 On 15 December 2011, 35 Ethiopian Christians working in Saudi Arabia were arrested and detained by the religious police for holding a private prayer meeting in Jeddah. The six men and 29 women are being held in Jeddah's Briman prison.
The official charge is that the Ethiopians were "mixing with the opposite sex" – a crime for unrelated people. A Christian leader from Saudi Arabia explained, "The Saudi officials are accusing the Christians of committing the crime of mixing of sexes because if they charge them with meeting for practicing Christianity, they will come under pressure from the international human-rights organisations as well as Western countries. In fact, when an employer of one of the detainees asked for the reason for their employee's arrest, the Saudi official told him that it was for practicing Christianity."
Saudi officials strip-searched the women, subjected them to an abusive body-cavity search, and assaulted the men. One of the women, who contracted an infection from the search, said: "We are traumatised by the strip search. They treated us like dogs because of our Christian faith. While talking about me during a recent visit to the prison medical centre, I overheard a nurse telling a doctor, 'Äòif she dies, we will put her in a trash bin.'" Another prisoner said, "A high-ranking security official insulted us, saying, 'ÄòYou are non-believers and animals… You are pro-Jews and supporters of America.'"
On 7 February, Saudi officials brought a Muslim preacher into their jail cell. One of the prisoners described what happened, in a phone interview: "The Muslim preacher vilified Christianity, denigrated the Bible and told us that Islam is the only true religion. The preacher told us to convert to Islam. When the preacher asked us, we didn't deny our Christian faith. I was so offended with her false teachings that I left the meeting."
At least 1 million of Saudi Arabia's 6 or 7 million foreign workers are Christians, but they are prohibited from having churches. The Saudi government maintains that they are allowed to worship privately in their homes, but this right is not defined in law. In 2006, the U.S. State Department extracted a "confirmation" from the Saudis that they would allow private worship in house churches and rein in the religious police, and in meetings in Saudi Arabia in 2011 the U.S. Commission on International Religious Freedom was told repeatedly that this is the policy. In practice, however, the police hunt out and punish Christians praying together privately, and the only safe place is within Western walled compounds. The State Department reported in 2008: "Mutawwa'in [religious police] continued to conduct raids of private non-Muslim religious gatherings. There were also charges of harassment, abuse, and killings at the hands of the mutawwa'in."
PAST ARRESTS
In October 2010, 150 Filipino Roman Catholics were detained for taking part in an underground Mass. Twelve of them, including a Catholic priest, were reportedly charged with proselytising. The Philippines' embassy in Riyadh confirmed that it had arranged a bail bond to obtain their conditional release into the custody of their employers.
In January 2011, two Indian Christians, Yohan Nese and Vasantha Sekhar Vara, were arrested when religious police raided a prayer group. The religious police interrogated and allegedly physically abused the two men, who spent more than six months in detention before being deported.
In February 2011, Eyob Mussie, an Eritrean, was arrested for proselytising. After psychiatric tests confirmed his sanity, there were reports that he would receive the death penalty. He was eventually deported.
(Christian Post, International Christian Concern, National Review Online)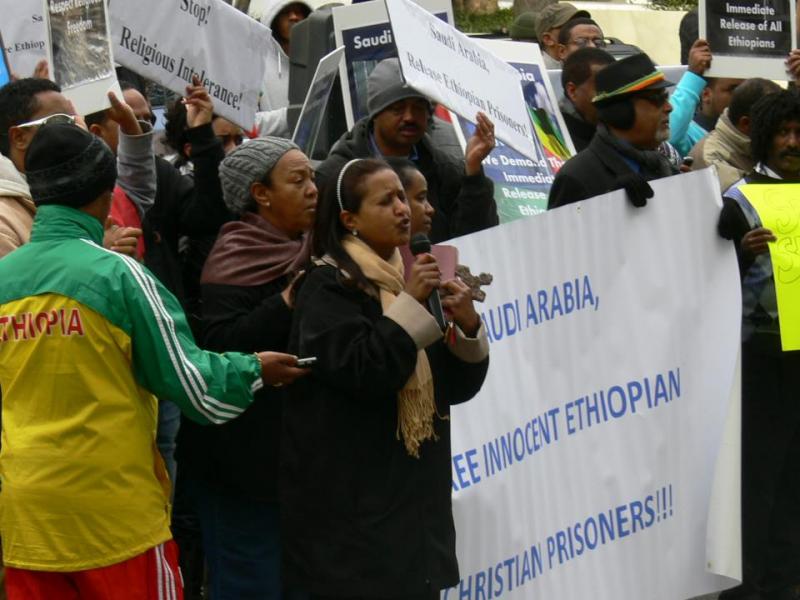 PROTESTS
Diplomatic pressure having failed to secure the release of the Ethiopians, a public protest was held at the Saudi Arabian Embassy in Washington DC on 21 February, organised by International Christian Concern and the local Ethiopian community.
Church in Chains has written to the Saudi Arabian Ambassador in Dublin to express the concerns of Irish Christians at the treatment of the Ethiopian Christians and appealing for their immediate release.
Share this