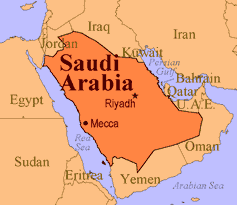 Since late May, Saudi authorities have been engaging in a series of raids and arrests involving a joint effort of standard police forces and muttawa, the self-elected Wahabbi religious police. The arrest of 46 Christians has been confirmed , with some sources citing in excess of 100 Christians arrested.This is the largest crackdown in several decades in the religiously oppressive country.
The crackdown comes in the wake of controversial reports of an American desecrating a Quran at the Guantanamo Bay detention centre. The connection between these reports and the crackdown has been made because during the latest wave of arrests, Saudi authorities have been ransacking houses and destroying any Bibles found in the victims' possession.
On Saturday 28 May 2005 at 8:30pm, Chittirical John Thomas, an Indian national, was forcefully taken from work in Riyadh by Saudi muttawa authorities, dragged to his home and beaten in front of his maid and 5-year old son.The muttawa then gathered his Bible and all religious paraphernalia, and took 37-year old Chittirical to the Shemaissy Detention Centre. His wife, who is five months pregnant, has not heard from her husband since.
In addition to Mr Thomas, seven other Indian nationals were arrested in similar fashion and detained for their faith as Christians whilst they were asleep on the same night.
These arrests followed the detention of Samkutty Varghese outside his Bible study venue on 22 March 2005. Samkutty possessed the names and numbers of other Christians attending the same fellowship group. Varghese was reportedly sentenced to 10 months in prison along with several lashes.
This latest crackdown on Christians illustrates the oppressive regime under which all religious minorities live and work in Saudi Arabia. (International Christian Concern)
Share this