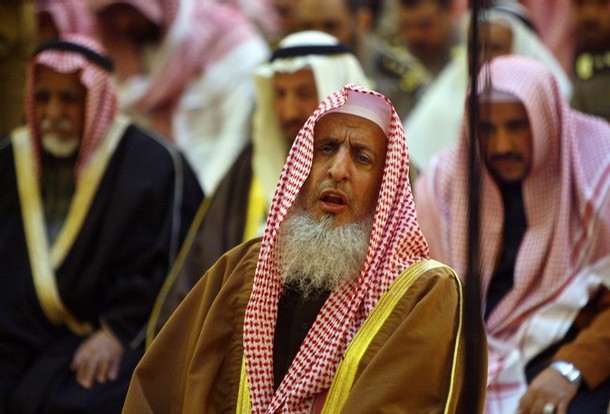 Sheikh Abdul Aziz Al-Asheikh, Saudi Arabia's Grand Mufti (the highest official of religious law) has stated that it is "necessary to destroy all the churches" in the Arabian Peninsula.
Sheikh Abdul Al-Asheikh made the statement on 12 March during a meeting with a delegation from a Kuwait-based NGO, Society of the Revival of Islamic Heritage. He was responding to a question from the delegation as to what sharia law says about building churches. The question arose from a recent statement by a Kuwaiti MP calling for the removal of churches; he later said that he merely meant that no churches should be built. (In February, legislation was introduced in Kuwait to remove churches and impose Islamic law.)
The Grand Mufti stressed that since Kuwait is part of the Arabian Peninsula, it is necessary to destroy all churches. He referred to a saying of the prophet Muhammad that there are "not to be two religions in the [Arabian] Peninsula".
Raymond Ibrahim of Jihad Watch, a blog critical of extremist Islamic laws, said, "Imagine what would happen if a Christian counterpart to the Grand Mufti, say the Pope, were to declare that all mosques in Italy must be destroyed; imagine the nonstop Western media frenzy that would erupt." Mr Ibrahim is a Shillman Fellow at the David Horowitz Freedom Center and an Associate Fellow at the Middle East Forum.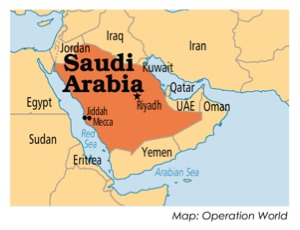 Saudi Arabia is officially Muslim and other religions are forbidden. There are no official church buildings and the religious police often break up private services. At least 1 million of Saudi Arabia's 6 or 7 million foreign workers are Christians. The government does not permit non-Muslim clergy to enter the country to conduct religious services, although some enter under other guises and hold private services. This restriction is particularly problematic for Roman Catholics and Orthodox Christians, whose faiths require them to receive sacraments from a priest.
In December 2011, 35 Ethiopian Christians were arrested for meeting to pray at a private home. They have not yet been formally charged, but during interrogations the Saudi officials have referred to them as "non-believers" and "animals". The Christians are being held in Briman Jail in Jeddah, where they have been put in cells with convicted murderers. They are not receiving necessary medical treatment or suitable food. A protest is to be held at the Saudi Arabian embassy in Washington D.C. on 26 March.
(Christian Post, International Christian Concern, Middle East Forum)
Share this