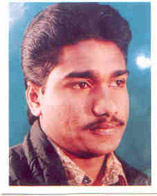 Brian O'Connor , an Indian Christian who had been detained since March, was deported unconditionally from Saudi Arabia yesterday. He was met at Bombay airport by friends.
He was taken to the airport last Saturday but his departure was postponed pending the return of money which had been confiscated from him at the time of his arrest. On Monday night he was taken there again and was allowed a farewell hug with his Christian friends before being taken through to the departure lounge.
Brian's unconditional deportation ends the threat of receiving the 300 lashes that he was sentenced to on 20th October for allegedly selling alcohol. Brian consistently denied this allegation, and was supported in doing so by those who knew him, including his employer.
Brian O'Connor was arrested on 25th March by the Mutawa ( religious police) after being lured outside his house by a mutawa pretending to be an Egyptian who urgently needed to speak with him. The Mutawa took him to one of their offices adjacent to a Mosque where he was severely beaten. They ordered him to sign a paper admitting to selling alcohol.
However he refused, stating that it wasn't true. He was then physically mistreated but continued to refuse to sign. He was pressed to convert to Islam. His home was searched and Christian videos, CDs and Bibles confiscated. The videos had been recorded from Christian satellite TV channels and were not pornographic as later alleged in court.
Share this