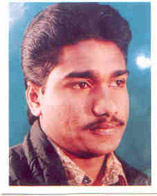 Brian O'Connor , a 36 year-old Indian Christian remains in prison in Riyadh, the capital of Saudi Arabia, despite being told in August by a Saudi government official that he would be either deported to his native India or released to return to his job as a cargo agent with Saudia Airways within two weeks.
Brian was accosted in the Mursalat district of Riyadh on the evening of March 25 by four agents of the muttawa (religious police). After seeing his Saudi identity card listing him as a Christian, they dragged Brian to a nearby muttawa office, chained his legs and hung him upside down for seven hours. The four intermittently beat him on the chest and ribs and whipped the soles of his feet with electrical wires.
In response to questions, Brian declared that he did preach the Bible, but denied converting Muslims to Christianity. At 2 a.m., the muttawa took Brian to the Olaya police station and ordered him put under arrest on charges of preaching Christianity, selling liquor and peddling drugs. A cargo agent for Saudia Airlines for the past six years, Brian has been sharing a windowless cell with 16 other inmates at Al-Hair Prison.
The head of the prison has told a visitor that there was no evidence to support the charges of involvement with alcohol or drugs against him. Brian is a faithful member of a house fellowship, hosted Bible Studies, and has been in Saudi Arabia for six years. (Compass/ Middle East Concern)
Share this