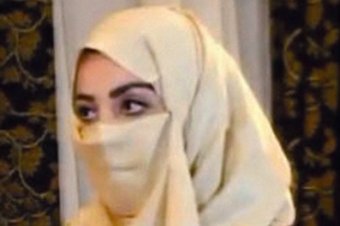 The Al-Khobar District Court has found two men, one Lebanese and one Saudi Arabian, guilty of "brainwashing" a Saudi woman, known only as the "girl of Khobar", to convert to Christianity and helping her to leave the country with a false travel permit over a year ago.
The Lebanese man was sentenced to six years in prison and 300 lashes, while the Saudi was sentenced to two years and 200 lashes. Their lawyers have challenged the verdict and said they would file an appeal.
The lawyer representing the woman's family, Humood Al-Khaldi, said the family members were satisfied with the verdict. The defendants were charged in July 2012 after the family of the woman, who has not been named, complained that the men had "brainwashed" her and helped her escape the country after she became a Christian. Her father filed a lawsuit against the men, who worked at the same insurance company as the woman, as soon as he learned that she had become a Christian and fled to Lebanon.
The woman had been drawn into religious discussions with her Lebanese colleague, while her Saudi colleague allegedly helped her to obtain a false travel permit and leave for Bahrain, from where she travelled on to Lebanon. Several of her colleagues testified against the Lebanese man, while her driver testified that he handed over to the man her personal belongings, which he sent to Lebanon – this was considered to prove that he had planned the whole thing and premeditated her conversion to Christianity.
The woman is now living in Sweden, where she has been granted asylum. She appeared in a YouTube video last year, saying that she had chosen to convert to Christianity. Family members have said that they only want her to return to them and that she will not be harmed. "We want her to come home and be with her family. We have written a pledge that she would not be harmed," said her brother. "Whoever claims otherwise is wrong. The condition of her mother is deteriorating every day she is away and the only cure is to see her daughter."
The Al-Khobar Administrative Court is to pass judgment on a case of forgery, bribery and abuse of power involving a passport officer who allegedly falsified a travel permit for the woman so that she could leave the country.
Saudi Arabia, the birthplace of Islam, is ruled by King Abdullah. It is one of the most difficult countries in the world in which to be a Christian: apostasy (leaving Islam) is illegal, as is proselytising for other religions or practising them openly.
(Christian Post, Irish Times, Saudi Gazette)
Share this