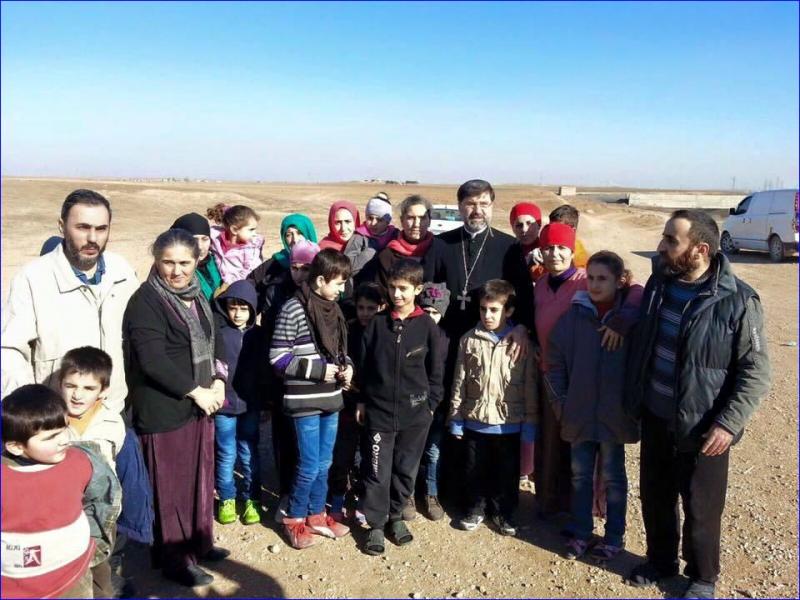 On Christmas Day, Islamic State militants released a further group of 25 Assyrian Christian hostages whom they had held captive since February.
The released hostages comprise two men, seven women, and sixteen children between the ages of 3 and 11 (the children belong to six of the seven released women).
The hostages were among the 253 Christians abducted on 23 February when Islamic State attacked 35 Assyrian villages along the Khabur River in Hassaka province, northeast Syria. During the attacks, 3,000 other Assyrians were driven from their villages; most have not returned.
The group was met and embraced by His Grace Mar Afram Athneil, Bishop of Syria and Chairman of the Assyrian Church of the East Relief Organisation (ACERO). In a statement, ACERO said, "On this holy day of the Nativity of our Lord we lift up honour and praise to Almighty God for hearing our prayers and blessing us with this Christmas miracle.
"We continue to expend all our resources and efforts through this holy season for the safety and freedom of all remaining hostages. We will not cease until we return them to their families."
It is thought that 105 Assyrians from the Hassaka group remain in captivity (four groups of hostages were released between August and December). Each group release has followed extensive negotiations led by church leaders working with local negotiators. There has been no public mention of ransom being paid but it is known that in the spring the terrorists demanded $100,000 per hostage, totalling $23 million, but when it became clear that the Assyrian community could not afford this, their demands were lowered to between $12 million and $14 million.
Islamic State is also holding about 185 Assyrian Christians abducted in Qaratayn, Homs Governorate, on 6 August – a group of fifty was released on 12 October.
(AINA, ACERO)
Share this