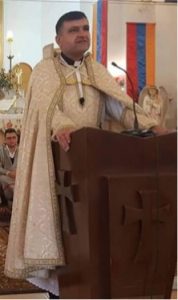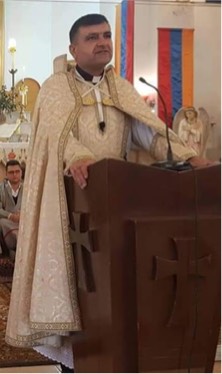 Syrian Christians' fears have increased following the murder of a priest and his father in northeast Syria on 11 November, in an attack for which Islamic State claimed responsibility. Following Turkey's incursion into the region in October, Christians had feared that IS would exploit the insecurity to re-assert its presence, and this has proved to be the case, with a surge in attacks.
Father Hovsep Hanna Bedoyan (43) of Mar Yousef Armenian Catholic church in Qamishli and his father Ibraham Hanna Bedoyan were murdered by gunmen in Deir ez-Zour. They were travelling in a car with two others: deacon Fadi Sano from Hasakah, who was injured in the attack; and a layman, who was able to escape. The funeral of the two Christians took place on 12 November at the priest's church in Qamishli.
Islamic State claimed responsibility for the attack, as well as for three motorbike bombings in Qamishli a few hours later, in which at least six people were killed and dozens injured. One of the bombs detonated outside a church building.
Following the attack on Father Bedoyan's car, the Armenian-Catholic Archbishop of Aleppo, Boutros Marayati, commented, "The war in Syria is not yet over. We continue to feel the presence of ISIS".
The priest's car was ambushed by armed militants on the outskirts of Deir ez-Zour, 260 km from Qamishli, where Father Hovsep made regular pastoral visits and was overseeing reconstruction work on the Armenian Catholic Church of the Martyrs. The church had been built by survivors of the Armenian Genocide and was destroyed by Islamic State in 2014.
Archbishop Marayati told Aid to the Church in Need, "We are trying to rebuild the church and the houses of the Christians who used to live there, so that they can return to the city."
Describing the attack, he said: "Shortly before they arrived at Deir Ezzor, two armed men on a motorcycle overtook their car and opened fire. The father of the priest was killed instantly, while Father Hovsep Hanna died later, outside the hospital in Hassake. Father Hovsep was dressed in his priestly attire and was consequently recognisable as a priest, in addition to the fact that his car was clearly marked, in large letters, with the words 'Armenian Catholic Church'. Hence it is entirely plausible that Father Hovsep was murdered because he was a priest and because of his efforts to re-establish the Christian presence in Deir Ezzor."
Archbishop Marayati reported that the region is experiencing tension because of ongoing clashes between Turkish and Kurdish forces. "The situation is chaotic," he said. "There are Turks, Kurds, Americans, Russians. Just yesterday there were three explosions. Christians are afraid – with every new outbreak of violence, many families are deciding to emigrate. Before the war, there were 5,000 Armenian Catholics and five churches in Qamishli. Today, they are just 2,000, and only two churches remain open."
The archbishop added, "All we are asking is that this war should end, but that will not be possible if people continue to help the terrorists and send arms to Syria. I beg you to pray for us and for our people, because at present we are living through extremely difficult times."
The Middle East Council of Churches has urged the worldwide church to pray for those directly affected by the attack, to invest in peace and reconciliation initiatives and "to draw inspiration from Father Bedoyan's testimony in order to strengthen the Christian presence as a sign of hope and love in the wounded Middle East".
Tens of thousands of people associated with IS are currently detained in northeast Syria, in a detention system said to be at breaking point. They include about 13,500 foreign women and children in camps and 2,000 male foreign fighters in prisons – 1,450 of these men hold Western passports.
Terror following Turkish incursion
Terror has returned to northern Syria following Turkey's incursion into the region on 9 October, its stated objectives being to create a "safe-zone" along the border to combat Kurdish-led forces and to facilitate repatriation of Syrian refugees from Turkey. Northeast Syria is the principal Kurdish region of the country, but includes large Syriac, Assyrian and Armenian Christian communities.
Middle East Concern reports that there are fears that Turkey's refugee repatriation plans constitute an intentional programme of demographic engineering in the region, intended to boost the Arab Sunni presence to the detriment of Kurds and other communities such as Christians.
As Turkey's forces have pressed south, 300,000 Syrians have been displaced and hundreds injured or killed. However, despite the extreme risk from shelling and ground conflict, many Christians have chosen to remain in the region. "These are extremely brave people who want to be salt and light in their communities," commented David Curry, CEO of Open Doors USA, following reports from his field staff. "They want to maintain the presence of Jesus and reach out."
Syrian Christian festival-goers urged to be servants and peacemakers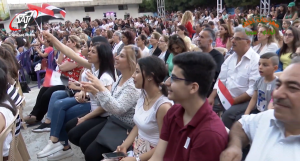 Hundreds of Christians attending a recent one-day festival (pictured) in an area of Syria known as the Valley of Christians (Wadi al-Nasara) were urged to be servants to all and agents of reconciliation. Since the start of the Syrian civil war, the Valley of Christians – near the north Lebanese border ­– has received 200,000 refugee families from other parts of Syria.
Evangelical pastor Nizar Shaheen, whose organisation Light for all Nations organised the festival with local churches, challenged attendees to model a unique quality of love. "What makes Christians unique is love," he said. "God's love is eternal, experienced, and sacrificial… Love heals hatred and heals broken societies."
Pastor Shaheen addressed feelings of bitterness or desire for revenge by reminding attendees of Jesus' words when James and John asked him to command fire to consume the Samaritans who had refused them entry to their village: "The Son of Man did not come to destroy men's lives but to save them."
(Aid to the Church in Need/Middle East Concern/Religious Liberty Prayer Bulletin/Sat7)
Share this