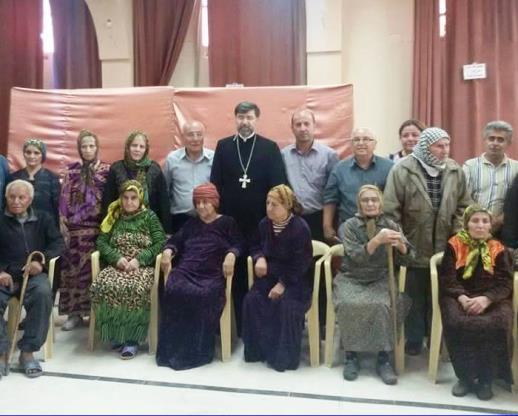 On 18 August, Islamic State released 22 more of the Assyrian Christians kidnapped in February 2015. A group of 23 was released in March.
The released Assyrians, some of whom are pictured (left), were part of a group of about 252 captured in raids on villages in the Khabur region of northeastern Syria in February. The hostages were taken to the Virgin Mary Church in the city of Hassaka for release. They are all elderly, 14 of them women, and they come from the villages of Tal Shamiram and Tal Jazira. A group of 23 hostages, mainly elderly, was released in March, so approximately 207 of the kidnapped group remain in captivity. (There has been uncertainty about the precise number of hostages taken.)
The Assyrian Observatory for Human Rights said the hostages were released due to "the tireless efforts and negotiations by the Assyrian Church of the East in the city of Hassaka". It released images of a priest greeting several weeping elderly women.
Islamic State had demanded $23 million (€20,452,000) for the release of the hostages, but several sources said that a ransom was not paid. Archimandrite Emanuel Youkhanna of the Assyrian Church of the East said the Hassaka bishopric had not paid ransoms.
Chairman of the Assyrian Federation of Sweden Afram Yacoub said, "Negotiations between Assyrian leaders and Sunni leaders who have pledged allegiance to ISIL have been taking place, and following an agreement they were released. No ransom was paid." He told the New York Times, "We believe they released them because of health issues and because they are old."
However, the British-based Syrian Observatory for Human Rights said that a ransom was paid. Some commentators have speculated that money might have gone to tribal negotiators rather than to Islamic State.
Conditions in captivity
Afram Yacoub of the Assyrian Federation of Sweden reported that the released hostages had not been physically harmed. He said, "ISIL separated the men from the women and children, and crammed them all into very small rooms. They were fed disgusting and inedible food. During their captivity, ISIL tried to convince them to convert to Islam."
An Assyrian relative of three of the released hostages, living in Sweden, described the conditions they had endured: "They have not been able to take care of their hygiene and they are full of lice," said Sabah Elijah. "They have not received food every day either, but perhaps only every other day. Those released will not disclose everything, because they have relatives who are still in the hands of ISIS. They said they have gone through hell."
Background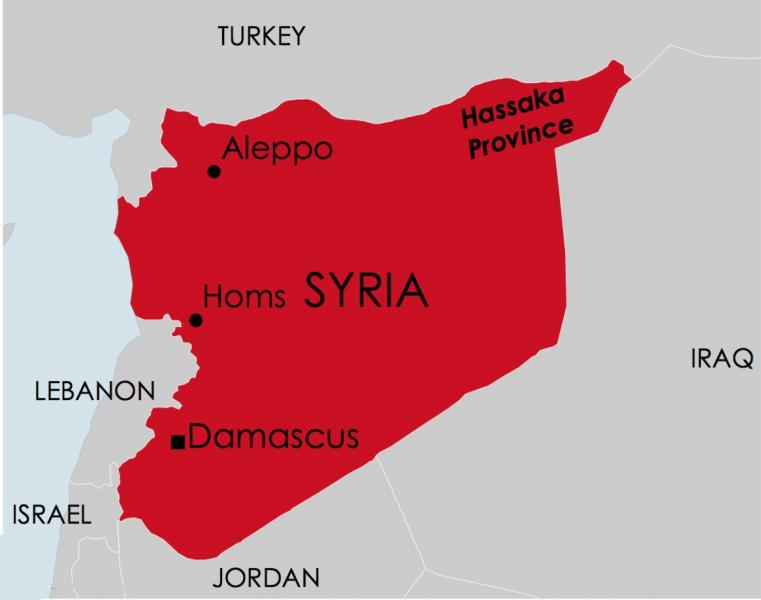 On 23 February 2015, Islamic State militants kidnapped 252 Assyrian Christians during attacks on 35 Assyrian Christian villages along a 40km stretch of the Khabour River in Hassaka province, northeast Syria. Some 3,000 other Assyrians were forced to flee their homes, while hundreds remained trapped in villages surrounded by IS militants. Four Assyrian guards were killed trying to defend the villages, and a Christian boy was reportedly killed. At least four church buildings were destroyed by fire. By nightfall on 23 February, more than 600 Assyrian Christian families had fled to the cities of Qamishli and Hassaka.
More abductions
On 6 August, IS suicide bombers breached army checkpoints at the entrance to the town of Qaryatain, western Syria, and at least 230 children, men and women were kidnapped. It is uncertain how many are Christians, but the number may be as high as 150. Nearly half of the captives were released later, but the fate of the others is unknown.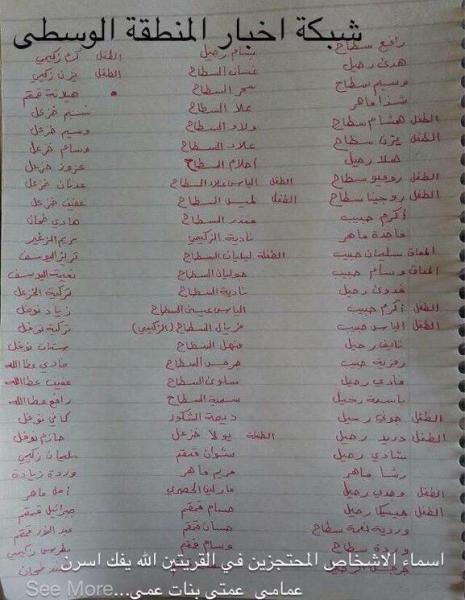 A commentator for the Syrian Observatory for Human Rights said those abducted were on an IS wanted list for "collaborating with the regime". On 7 August the Guardian published a photograph of a handwritten wanted list, purportedly naming some of the captured Christians. Syriac Orthodox Bishop Selwanos Boutros Alnemeh said IS "accused the Christian families of backing the regime".
In an interview with Vatican Radio, Chaldean Bishop of Aleppo Antoine Audo said the Qaryatain kidnappings are an IS strategy to show its power and military dominance and spread terror. He said IS wants to destroy Syria's Christian communities, so its militants are trying to "push the Christians to emigrate".
Qaryatain lies between Palmyra and Damascus in the province of Homs, where IS terrorists are currently pressing west. IS now controls more than 50 percent of Syrian territory, with the capture of Qaryatain its largest advance since taking Palmyra in May. In June, many Christians and Syrians of other religious minorities took refuge in Qaryatain and nearby Christian villages after IS advanced against towns and villages in northern Aleppo province. An estimated 1,500 Assyrian families fled to Christian villages and on towards Homs.
On 20 August, IS demolished the fifth century Mar Elian monastery in Qaryatain, where many displaced Assyrians had taken refuge.
Hostility to Christians and other minorities
IS considers the ancient religious minorities such as Assyrians and Yazidis to be kafir (unbelievers) and infidels. Assyrian Christians are one of the world's oldest oldest Christian communities, originating in Assyria in northern Mesopotamia; it is estimated that there were up to 40,000 in Syria before civil war broke out in 2011.
Bishop Yatron Koliana of the Assyrian Church of the East in Lebanon, stated recently, "My personal sources say there are about 15,000 [Assyrian Christian] families left in Syria. Of course, they do not live in the villages captured by militants, but were able to temporarily relocate to nearby towns."
(Assyrian International News Agency, Christian Post, Daily Mail, Guardian, Newsweek, Religious Liberty Prayer Bulletin, Voice of the Martyrs, World Watch Monitor)
Share this