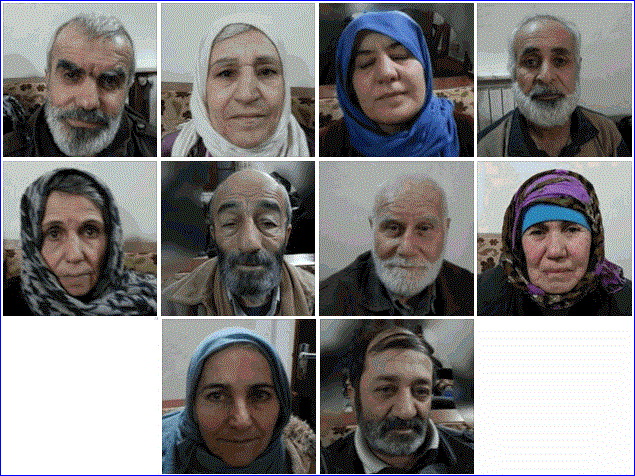 On 24 November, Islamic State released ten more Assyrian Christian hostages – five women and five men.
The hostages were among the 253 Christians abducted on 23 February 2015 when Islamic State attacked 35 Assyrian villages along the Khabur River in Hassaka province, northeast Syria. During the attacks, 3,000 other Assyrians were driven from their villages; most have not returned.
The Assyrian Network for Human Rights in Syria released a statement saying: "The released Assyrians arrived in the mostly-Assyrian town of Tel Temir at 17.00 on Tuesday. The released Assyrians, who are residents of the towns of Tel Shamiram, Tel Jazeera, Qabr Shamiya and Tel Fayda, are in good health." They were met by their families and other members of the Assyrian community.
This follows several other releases of Assyrian hostages from the Hassaka group: 19 were released on 1 March; four on 3 March; two on 26 May; one on 16 June; 22 on 11 August; and 37 on 7 November. Most of the released hostages were elderly or sick. In October, IS released a video showing the execution of three hostages from the Hassaka group.
The four released on 3 March included Mariana Mirza (6) and her great-aunt Bobo Mirza, who had voluntarily remained to care for her despite being offered freedom.
It is thought that 155 Assyrians from the Hassaka group remain in captivity, although there has been uncertainty about numbers all along. Islamic State is also holding about 185 Assyrians abducted in Qaratayn, Homs Governorate, on 6 August – a group of fifty was released on 12 October.
Negotiations
The release of the hostages follows negotiations over many months by church representatives, headed by Bishop St. Ephrem Otnaial, with the help of local mediation.
Regarding the remaining hostages, the director of the Assyrian Network for Human Rights in Syria, Osama Edward, said: "We cannot disclose details of the negotiation process due to the gravity and sensitivity of the situation. There have been indirect negotiations with ISIS in order to release the rest of the hostages."
In recent weeks, many Syrian Christians have fled from the predominantly Syriac Orthodox town of Sadad in Homs Governorate, fearing an IS advance. In October 2013, Sadad was briefly overrun by militants from the al-Qaeda affiliate group Jabhat al-Nusra, who murdered at least 45 Christians and desecrated churches.
(AINA, ARA News, Middle East Concern)
Share this