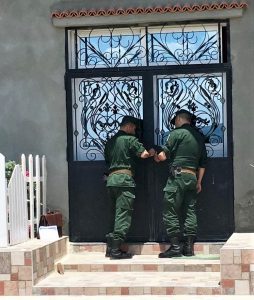 Christian places of worship continue to be targeted by authorities in Algeria. One recent example was a church and its Bible school which were closed in Boudjima, Tizi-Ouzou Province, on 22 May. On the day of the closure, gendarmes summoned Pastor Youcef Ourahmane to the evangelical church in northern Algeria and informed him that the governor had ordered for it to be sealed as it didn't have the required permit. After locking the doors, the officers at the scene apologised for what they were doing, saying, "We are only the executors."
According to Pastor Youcef Ourahmane, the church had applied for a permit, but the application has not been processed. The church in Boudjima has suffered continual harassment from the local authorities since 2017. The new building only opened its doors on 11 January 2019 after a court ruled against the province's previous governor, Abdelhakim Chater, who had wanted to stop its construction.
Pastor Youcef also serves as Vice President of the Protestant Church of Algeria (EPA), which oversees the operation of 45 churches across the country with nearly 50,000 Christians. He reported that three churches in Oran Province, that had been closed in November 2017 and February 2018, have since reopened, while others closed in Béjaïa Province last year remain sealed. On 30 December 2018, authorities ordered the closure of an evangelical church in Ait-Jimaa village, 45 kilometres from Tizi-Ouzou.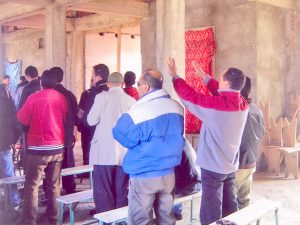 Church groups and buildings in Algeria must be registered and it is a crime for Christians to worship anywhere other than in a registered location under a law introduced in 2006. The historical churches are allowed to have buildings, but others face great difficulty registering – the authorities have failed to respond to almost all their applications for places of non-Muslim worship. According to advocacy group Middle East Concern (MEC) most EPA-affiliated churches have received orders to cease their operations since November 2017. MEC stated that officials have yet to issue any license for a church building under the regulation. Thus many churches have been forced underground and meet as house churches, which are officially illegal, using people's homes or even meeting in the open air.
(Barnabas/Middle East Concern/Morning Star News)
Share this