On 16 October, Algerian authorities closed the Tafath (Light) church building in Tizi-Ouzou (pictured), a day after sealing shut the buildings of the country's two largest churches. The three closures are the latest in a campaign against churches in Algeria.
The closure orders were issued on 9 October, the day when the organisation representing Protestant churches in Algeria, l'Église Protestante d'Algérie (EPA), held a peaceful demonstration outside provincial government offices to protest at the recent spate of closures in northern Algeria.
Police summoned Pastor Mustapha Krireche of the 150-member Tafath church to the police station and drove him to the church building, where more than a dozen officers were about to seal the main door building. The pastor asked for permission to gather a few items.
"As soon as I arrived at the scene, seeing that they were going to seal it, I asked the officer, a lady, to give me the time to look for the keys to be able to recover a few items," Pastor Krireche told Morning Star News. "The officer told me, 'I'll give you half an hour; if you're not back then, we go into action and close everything.'"
The pastor, who had been notified of the closure the previous day, collected some items and the building was sealed shut.
Makouda Church building closed
On 15 October, police sealed shut the building of the 500-member Source of Life church in Makouda, Algeria's second-largest church, about 25 kilometres from Tizi-Ouzou.
Members of the congregation remained in the worship hall to resist, but police removed them. Pastor Nourredine Benzid, secretary of the EPA, was taken by the arms and forced out.
Pastor Benzid issued a statement in which he said, "I never thought that one day places of worship could be invaded by the elements of security services with their weapons in front of children, women, old people and young people."
Largest church closed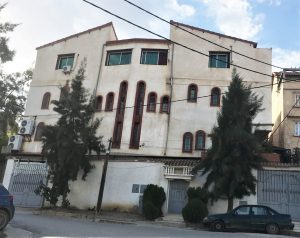 The governor of Tizi-Ouzou province notified the Full Gospel Church in the city of Tizi-Ouzou that its building (pictured) would be sealed on 16 October, but police arrived to close it a day early. The church is Algeria's largest (with about 700 members, but also serving another 300 people in seven to eleven small churches in Tizi-Ouzou province) and its lead pastor, Salah Chalah, is head of the EPA.
About twenty police officers entered the building, where more than 300 Christians had gathered in solidarity with local members. A service of worship and prayer had just ended and police charged in, posting a guard to prevent some Christians who had left from re-entering. Pastor Chalah was inside the building with Pastor Tarek Berki and other Christians who refused to leave. Police forced them out, dragging some women by the hair, and when Pastor Chalah and other Christian men tried to intervene, officers kicked them and hit them with batons before sealing the doors. The pastor sustained minor injuries.
Pastor Chalah's church is the only Protestant church in Algeria with an official document stating that it is place of worship; the pastor says it has been legally active since 1996.
"It's been 23 years that we exist in plain view," he said. "Why wait until today to do so? May everyone know that we have been beaten and abused, including our sisters too, in our own premises for one reason only – our Christian faith. And because that's the cause of our pain, we're proud of it."
Campaign against churches
The three closures bring to 15 the number of church buildings sealed since the government launched a campaign against the EPA's 46 affiliated churches in November 2017. The authorities demand that affiliated churches prove they have licences and threaten them with closure.
The campaign is built on a pretext of carrying out safety inspections: most EPA-affiliated churches have been inspected by "building-safety committees", which also ask to see the licence authorising each building's use for non-Muslim worship.
Algeria passed a law in 2006 which stipulates that all places of non-Muslim worship must be licensed. However, the commission set up in 2006 to license churches has never met and the government has ignored all applications. Because of this, many churches have sought protection by affiliating with the EPA, which had legal status before 2006.
Protests and arrests
Pastor Chalah and other church members believe the closure orders for the Tafath, Makouda and Full Gospel churches were issued in retaliation for the demonstration that Christians organised at provincial government offices in Bejaia on 9 October.
Another demonstration was held on 17 October in front of provincial government offices in Tizi-Ouzou. At least 17 Christians were arrested and held for several hours, and some were physically abused and insulted. They were not told if they will face charges.
Pastor Salah commented, "I think these closures are not legal, they are not according to our law. It is a consequence of the abuse of power by the local authorities… it is a strategy of the government to close the churches. I believe that all Protestant churches in Algeria are targeted. I think one of the main reasons is that we have so many believers coming from a Muslim background. The authorities don't feel comfortable with that."
Pastor Salah says he believes church members will continue to meet in homes as house churches. "Some congregations in our country gather outside in nature to worship the Lord together," he said. "Other churches now gather as house churches. I think we will do that, come together in the houses. I am afraid that the authorities will also forbid the house churches. We have already seen that happening in Algeria. Pastors whose churches were closed started having meetings in the houses, and the government forbid that."
On 17 October, police summoned leaders of a church in Freha and informed them that their church building would be sealed soon.
Read more about Algeria in Church in Chains' Algeria Country Profile.
(Middle East Concern/Morning Star News/Open Doors)
Share this