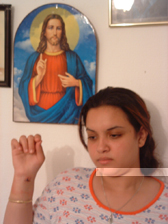 On Tuesday 2 June a 17 year old Christian girl, Heidi Salib, disappeared in Egypt. Her family, from a district of Cairo, fear that she has been kidnapped by men who abducted on a previous occasion in April.
During her abduction in April, she was sexually abused and drugged in order to manipulate her. A cross tattoo on her hand (see photo) was forcibly removed. Her abductors tried to force her to convert to Islam, and one now claims to be her husband.
(Egyptian law forbids the marriage of a girl under 21 without her parents' consent. It is also illegal to convert a Christian girl under 18.)
The family suspected a local Muslim man because their daughter had previously complained of harassment by him, and they mentioned this to the police. When brought in for questioning the suspect admitted to having her money, saying she had given it to him. The local police and a local member of the Egyptian parliament supported her abductors and intimidated her family, blocking efforts to get her back.
After the girl was reunited with her family in April, they were forced to live in several different locations to try and prevent a second kidnapping but the girl disappeared early in June. Her current whereabouts are unknown and her family are now completely devastated.
This case shows an unbelievable disregard for the rights of children and the institution of the family. It also shows a complete disregard for law by some Egyptian police and the prejudice with which they treat minorities, particularly Christians.
However, it is not an isolated case. This case highlights a very serious issue in Egypt. Unfortunately, the forced conversion of young Christian girls in Egypt is a recurring theme. Many methods are used, from intimidation and pressure to a quick underage marriage as the 'honourable' conclusion to a rape for which no one is charged.
Typically, almost as soon as she is away from her family and in the hands of a Muslim man, a Christian girl is treated as though she has officially converted and needs to be protected from her parents. Christians who have gone to the police to report a missing girl or to receive information about her are then treated as criminals themselves. They are considered second-class citizens who would try to harm her or force her to reconvert to Christianity. (Barnabas Fund)
CCFC has written to the Egyptian Ambassador in Dublin, Mr. Ibrahim Khairat, asking him to urgently intervene in this case.
Share this