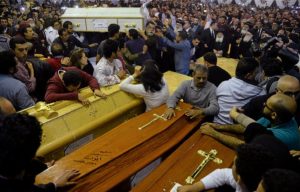 At least 49 people were killed in suicide attacks on two Coptic churches on Palm Sunday. 27 people died when a bomb exploded inside St George's Coptic church in Tanta in the Nile Delta region and a further 22 were killed when a suicide bomber detonated his bomb outside St Mark's Cathedral in Alexandria. Both attacks have been claimed by Islamic State militants.
The Egyptian government declared a three day period of national mourning and President Al-Sisi announced a three-month state of emergency allowing authorities to make arrests without warrants and search people's homes. He warned that the war against the jihadists would be "long and painful".
First Attack
The first attack took place at St George's Coptic church in Tanta (90km north of Cairo) when the bomber managed to slip past security measures, including a metal detector, at one of the side doors and blew himself up near the altar as the church choir sang. At least 27 people were killed and 78 others injured, officials said.
Most of the victims were children, their parents and deacons – lay Christians who help with the service –  who were in sitting in the first three rows of the church. Hours later, victims' relatives stood silently outside the city morgue, waiting to identify and collect the remains of their loved ones. Fr Daniel Maher, a priest who had been leading the Mass, was still wearing his bloodstained white vestments. The priest said he had not been harmed in the attack, but he lost his son, Bishoy, who was to get married later this year.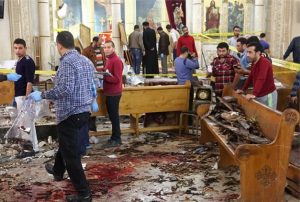 Members of the Coptic community expressed anger at the lack of security, saying that despite warnings of an attack, police had not stepped up efforts to protect them.
A senior police official said that a bomb was discovered and disabled near the Tanta church about a week ago. "That should have been an alarm or a warning that this place is targeted," said 38-year-old Amira Maher. "Especially Palm Sunday, a day when many people gather, more than any other time in the year… I don't know how this happened."
Second Attack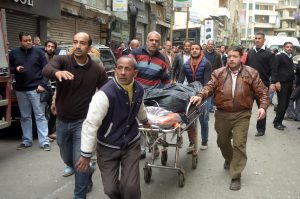 The second attack occurred just over two hours later at St Mark's Cathedral in the coastal city of Alexandria, where a suicide bomber tried to enter the cathedral as the congregation were leaving at the end of the service. CCTV footage, which was later shown on a private Egyptian television channel, showed a man wearing a bulky jacket being directed into a metal detector at the church gates, where he paused to be searched by a police officer. A moment later, a giant blast rang out. At least 22 people were killed, including four police officers who were guarding the cathedral, and an additional 48 were wounded, according to the Egyptian Health Ministry. There was extra security around the building as the leader of the Coptic Church, Pope Tawadros, had been leading the service. The police officers who died have been hailed as heroes for preventing the attacker from gaining entry to the cathedral. Three of the police officers were female (the first ever female police victims of terrorism in Egypt).
Pope Tawadros was not injured in the blast. He later issued a statement saying that "these sinful acts will not harm the unity and cohesion of the Egyptian people".
Reaction
In their statement claiming responsibility for the attacks, Islamic State stated: "Crusaders and their apostate allies should know the bill between us and them is very big and they will pay it with rivers of blood from their children, God willing. Wait for us, for we will wait for you."
Grand Sheikh Ahmed el-Tayeb, head of Egypt's Al-Azhar University and Mosque – the leading centre of learning in Sunni Islam – called the attacks a "despicable terrorist bombing that targeted the lives of innocents".
Professor Mohamad Elmasry, an Egyptian-born Canadian Muslim leader, told Al Jazeera that Egyptian governments "have often responded to violence and instability by resorting to the country's emergency law. However, it rarely works and will do little to address the structural gaps in Egyptian security. These attacks highlight some of the animus that exists toward Christians in Egypt. It is true that violent attacks on churches will find no popular support in Egyptian society. But it is also true that there exists a broad socio-political bigotry against Christians."
The church attacks were widely condemned across the Middle East as the governments of Turkey, Israel, Jordan, Saudi Arabia and Qatar each issued strong statements. The attacks were also condemned by the Palestinian Authority and Hamas who described them as "a crime that targeted houses of worship, and killed and injured scores of innocent civilians… we wish for Egypt and its people full security and stability."
Funerals
Late on Sunday evening, people in Tanta packed the streets leading to St George's church to pay their respects while relatives inside lay across the coffins and wept.
The families of the victims of the bombing at St Mark's Cathedral in Alexandria gathered on Monday at the Monastery of Saint Mina under heavy security with hundreds of people crowded outside. Coffins of 17 of the victims were lined up on the tiled square outside the monastery ahead of the funeral. Police checked cars as they entered the grounds, and dozens of tanks lined parts of the road from Cairo.
Prayer Points
The Christian advocacy group, Middle East Concern said that Christians in Egypt request prayer:
for God's comfort for those who lost loved ones and for full recovery of the injured
for comfort and encouragement for the wider Christian community and for God's protection over his church in Egypt and over other targets of these kinds of attacks
that the perpetrators of these violent attacks and the instigators behind them will be found and brought to justice.
(Anadolu Agency, Al-Jazeera, BBC, Daily Mail, New York Times, Press Association, Reuters, World Watch Monitor)
Share this