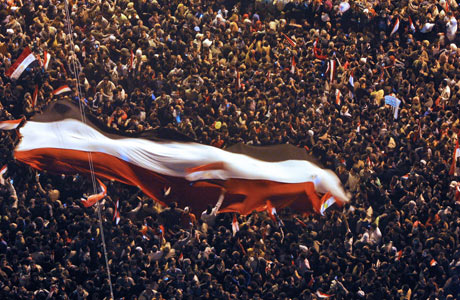 President Mubarak resigned earlier today following three weeks of protests against his rule. The news was greeted with joy by hundreds of thousands of protesters in Tahrir Square in Cairo.
Egypt's Christians wonder what the future holds for them after power was transferred to the Army and that uncertainty is likely to remain for some time until it becomes clear who is going to rule Egypt and what policies they will follow.
While the protests were going on in Cairo, militant Muslims exploited the chaos to slaughter eleven Coptic Christians from two families in the village of Sharona, in al Minya Province, about 200km south of Cairo on Sunday 30 January. Men, women and children were killed by militants who acted with help from neighbours.
Although the leadership of the Coptic Church initially advised Christians not to get involved in the protests, many young Egyptian Christians have been taking part and the protesters have displayed a unity of purpose transcending religious divisions. Muslim and Christian prayers have been offered in Tahrir Square and repeated chants have been heard: "Muslims and Christians are all Egyptians".
Many Christians have been concerned about what might happen were the Muslim Brotherhood to form part of the next government. The Muslim Brotherhood – long suppressed under President Mubarak – have pledged to represent all Egyptians. Writing last week in the New York Times, a member of the Brotherhood's leadership defined succinctly their mission: "We aim to achieve reform and rights for all: not just for the Muslim Brotherhood, not just for Muslims, but for all Egyptians." The debate about the Muslim Brotherhood is not whether they currently support democratic reform in Egypt, but whether they will still support reform after they are in government.
Yesterday, the Evangelical Community in Egypt called on local churches to unite in prayer next Thursday (17 February) and the following Sunday "for the safety and security of our country."
In an open letter to Egypt's Vice President, General Omar Suleiman, Evangelical Community Acting President Andrea Zaki Stephanous paid tribute to both the "courage and decency of the youth's movement" and "the role of our armed forces in protecting the safety and security of the nation." (CSW, Christianity Today)

CALL TO PRAYER

Ramez Atallah, General Secretary of the Bible Society of Egypt, which has had to suspend many of its activities, has asked for people to pray in the following terms:
PRAY… for wisdom for the political and army leaders to know how to control the situation without resorting to brutal means.
PRAY… that Christians in Egypt (both locals and expats) will not "run away" when things get hard.
PRAY… for the future leadership of Egypt. The door will be open to all political and religious ideologies, extremists and fundamentalists included.
Share this