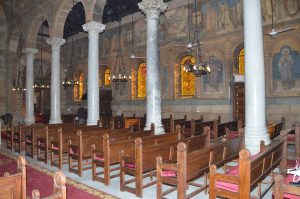 Boutrossiya church in the Coptic Cathedral complex in Cairo's Abbassiya district, which was the scene of a suicide bombing during Sunday Mass on 11 December, has been fully repaired and reopened for prayer on New Year's Eve.
Some 23 Christians were killed in the bomb attack (three more died in the days that followed), scores were injured and the church building incurred extensive damage. The bomber was identified as Mahmoud Shafiq Muhammad Mustafa (22), an Islamist from Fayoum, and three of his accomplices were arrested. Islamic State claimed responsibility for the attack.
Egypt's Armed Forces spokesperson said that following orders from President Sisi, the Armed Forces' Engineering unit renovated the church and repaired all damage caused by the attack.
The Armed Forces repaired the wooden roof, cracked walls, doors and windows. Damaged chandeliers were replaced by old ones that had been in storage, and new pews and curtains were brought in. Marble columns and stone walls have been left pockmarked by shrapnel and partly scorched, in remembrance of the bombing and the Christians who lost their lives for their faith. A team of Italian specialists in icon restoration is repairing the icons, which date from the early 20th century and were painted by the Italian Primo Panciroli.
The President had demanded that the church be ready for Midnight Mass on Christmas Eve – Coptic Christians celebrate Christmas on 7 January, with Christmas Mass held on the night of 6 January – but the army completed the work a week ahead of schedule and handed it over on 30 December. On 31 December, Boutrossiya Church held the Kiahk Praises, evening services of prayer and praise that take place throughout the Coptic month of Kiahk leading up to Christmas. The congregation's joy at having the church back was mixed with grief at the loss of loved ones in the bombing.
At dawn on Sunday 1 January 2017, Coptic Pope Tawadros II presided over New Year Mass at Boutrossiya, after which he joined the families of the victims for breakfast at the hall in the church grounds. Anba Raphail, Secretary-General of the Coptic Orthodox Holy Synod and Bishop-General of Downtown Cairo churches, began a three-day programme of visiting the victims' families, to share with them words of comfort and blessing.
Boutrossiya church, also known as the Church of St Peter and St Paul, was built by and remains under the care of the prominent Coptic Boutros-Ghali family. Under the church is a crypt in which members of the family are buried.
(Egyptian Streets, Watani)
Share this