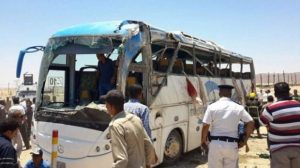 Armed militants today opened fire on a convoy of three buses carrying Coptic Christian pilgrims to a monastery in Minya province. At least 28 Christians (many of them children) were killed and over 20 were injured.
The well-planned attack took place while the convoy was travelling on a road that links a major highway to the Monastery of St Samuel the Confessor, 135km south of Cairo. The monastery is in an isolated western part of the province.
While no group immediately claimed the attack, Islamic State militants are suspected as they have targeted Copts several times in recent months, and vowed to do so again.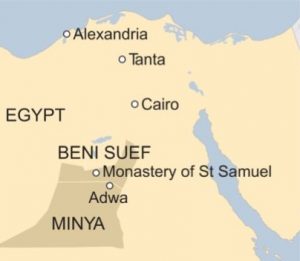 Between eight and ten gunmen wearing military uniforms attacked the convoy, firing at the vehicles with automatic weapons. A local source said "The militants carried out this attack very carefully; they knew the details of the trip and its time and ambushed the buses."
Bishop Makarios, the Coptic bishop of Minya Province said many of the victims were shot at close range. "The gunmen got on the bus and they shot people point-blank," he said. "The injuries are straight shots in the head, body and the neck."
It is believed that there was a cameraman with the terrorists, filming the attack. The terrorists left fliers on the buses, saying: "A fast accepted [by Allah], and all sins forgiven". This phrase is a famous quote used by Muslims during their holy month of Ramadan, the month of fasting, which begins tomorrow. Following the attack, the terrorists fled in three 4×4 vehicles.
Bishop Makarios described frantic scenes at the three Minya hospitals where the wounded were treated, and where hundreds of people sought news of missing relatives. Among the first list of confirmed dead were four-year-old Marfy Hany Moussa and two-year-old Moreska Mina Samuel.
Bishop Makarios, who survived an assassination attempt in 2013 while he was travelling by car in the province, said there was little that could have been done to prevent this attack. "The gunmen came out of a nearby mountain and lay hiding in wait," he said. "Policemen are there looking for them now." The road is close to the western desert, and police fear that the attackers may attempt to escape through the mountainous area close to the monastery.
Reaction
Ireland's Minister for Foreign Affairs Charlie Flanagan issued a statement, saying: "I have learned with great sadness about another attack on the Coptic Christian community in Egypt today. Just last week in Dublin, I offered my condolences to the Head of the Coptic Church, His Holiness Pope Tawadros II, for last month's attacks.
"Today I again offer my sincere condolences to those killed and injured and their loved ones, as well as to the entire Coptic Christian community. I condemn in the strongest terms the actions of those responsible for this barbarous act of terrorism."
Prayer Points
Egyptian Christians request prayer for:
a. God's comfort for those who lost loved ones, and for full recovery for the injured
b. comfort and encouragement for the wider Christian community, and for God's protection over his church in Egypt and over other targets of similar attacks
c. for those responsible for the attack, that they will be brought to justice and will repent of the evil they have done
d. the President and all in authority in Egypt, that they will uphold justice and righteousness
(BBC, Egyptian Streets, Guardian, International Christian Concern, Middle East Concern, New York Times,  Release International, RTÉ, Watani)
Share this