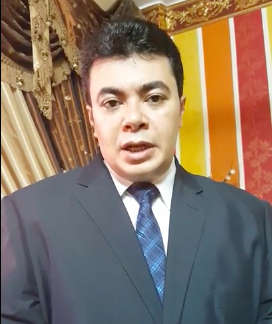 On 30 July, following two and a half year's unlawful detention, Christian convert Bishoy Armia Boulos (34) posted a video on YouTube announcing that he had returned to Islam. He has been released from prison into the custody of his parents.
The video was posted on a newly-created YouTube channel under the name Mohammed Hegazy (his original Muslim name). Bishoy/Mohammed's lawyer, Karam Ghobrial, stated that he believed that Bishoy/Mohammed made the video which included the Shahadah (the Islamic confession of faith) because he was a terrified and broken man. He noted that Bishoy/Mohammed seemed stilted in the video, and that the statement he gave seemed scripted. "I personally think that he recorded this video to get out," said the lawyer, who had worked tirelessly to secure his freedom.
In the two and a half minute long video, Bishoy/Mohammed said he wouldn't discuss his return to Islam or speak to the media again. "I went through an experience with all its good and bad and all that is in it, but it was an experience… But praise be to God who strengthens me in Islam. I am not coming today to talk about specific things, because it was a personal thing between a person and God. But I am coming today because I hurt a lot of people in my family and my friends and caused them a lot of problems." He apologised to family members, who had threatened to kill him after he became a Christian.
The fact that Bishoy/Mohammed declared that he wasn't speaking under duress but at the same time would no longer speak to media has aroused concern among human rights activists in Egypt that he may have been coerced or threatened to make the statement.
Efforts to secure release
Bishoy/Mohammed was finally released on bail on 23 July after spending more than three weeks being transferred from prison to prison across Egypt, under the direct orders of the Ministry of Interior (MOI), according to Kharam Ghobrial, his lawyer during his imprisonment. It is unclear if he still faces charges.
Since the end of June when a judge ordered his release, security agents from the MOI transferred Bishoy/Mohammed to at least four different prisons or police holding cells no less than six times with no hope of ever being released, and without giving any reason why he was being detained. With each transfer, Bishoy/Mohammed became increasingly suicidal. The last time Mr Ghobrial saw him, he was at a breaking point, the lawyer said. "It broke my heart to see him crying at the police station that day. I couldn't do anything to help him. He'd lost hope in life and was thinking about suicide."
Bishoy/Mohammed, who is aged 34, was released on condition that he return to live with his parents, who were the first people to turn him in to the government for leaving Islam and who have made no secret about their desire to see him dead for converting. At the time, Mr Ghobrial said, "I feel like [releasing him to his parents] would be the end of Bishoy/Mohammed. Because Port Said is a small city, and it isn't only his parents who live there but his whole extended family. Port Said is where he converted to Christianity. He will be easy to recognise and easy to kill. I don't understand the police's insistence that he live with his parents. It's basically like saying, 'ÄòHere he is – kill him,' and then handing him over on a silver platter."
There has been no news about Bishoy/Mohammed's wife, Christine, and the couple's two children who took refuge in Europe some years ago.
Although the Egyptian constitution guarantees freedom of expression and belief, security agents from the Ministry of the Interior routinely harass and arrest converts who are suspected of leaving Islam.
In June, during Ramadan, the Muslim month of fasting, Al-Azhar Mosque's Grand Imam Ahmed el-Tayyib, arguably the most respected Islamic scholar in the world, said during a daily TV programme that leaving Islam was "treason" and that apostates should be executed.
"The penalty for an open apostate, departing from the community, is well stipulated in Sharia," Imam El-Tayyib said. "An apostate must be pressed upon to repent within a variable period of time or be killed."
Background
Mohammed Hegazy became a Christian in 1998. He was arrested several times and was tortured, but refused to recant his faith. He became well known in Egypt as the first citizen to attempt to change the religious identity on his ID card from Muslim to Christian, in a case begun in 2007. Egyptian citizens aged 16 or older must carry an ID card, which is necessary to open a bank account, enrol children in school or start a business, among other activities. In January 2008, the Supreme Administrative Court ruled against Bishoy. In 2009 a group of Islamists filed a charge of defaming Islam ("blasphemy") against him, based on the accusation that leaving Islam casts the religion into ill repute.
Bishoy/Mohammed worked as a Christian journalist and had been in prison since December 2013 when he was arrested while documenting the persecution of Christians in Upper Egypt. He should have been released in December 2014 after serving a one-year sentence but remained in prison at the insistence of state security intelligence officials. It is known that he was beaten and tortured in prison and that he was pressurised to recant his Christian faith.
(Morning Star News)
Share this