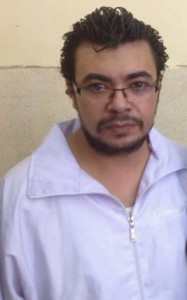 Christian journalist Bishoy Armia Boulous (33) is being beaten regularly in prison. A former Muslim, he was previously known as Mohammed Hegazy.
Bishoy's lawyer Karam Ghobriel says the jailers are trying to make him recant his faith: "They're beating him to humiliate him, hoping he will change his mind, hoping he will go back to the way he was instead of insisting on Christianity." The lawyer said that officers in Tora Prison beat Bishoy several times a week, drag him across rough concrete prison floors and have forcibly shaved his head, a punishment normally reserved for violent criminals such as sex offenders. Late last year, Bishoy spent a night in a death penalty cell. While in prison he has not been allowed to receive Communion or to have a Bible, and only his lawyer is allowed to see him, irregularly.
In response to the beatings and the many legal irregularities surrounding the case, Karam Ghobriel (pictured below) filed a formal complaint in May with Hasham Barakat, Egypt's attorney general. It stated, "The accused… is now being kept in prison illegally. In addition to that, he is being continuously beaten and dragged [over prison floors] in Tora Prison by Officer Ahmed Fauzy."
Bishoy has been in prison since he was arrested in December 2013, in Minya Province, for filming anti-Christian demonstrations by the Muslim Brotherhood (for details, see Timeline below). His arrest took place during one of the worst ever waves of anti-Christian attacks in Egypt, including kidnappings, assaults, destruction of property and mob attacks on church buildings, several of which were burned to the ground. Much of the violence took place in Minya Province.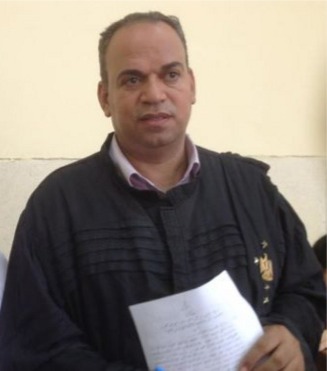 Before Bishoy's arrest in 2013, he was already well known as the first Egyptian to attempt to change the religious identity on his ID card from Muslim to Christian, in a case begun in 2007.
Egypt's 2014 constitution guarantees freedom of belief and freedom to worship, and its international legal obligations demand respect for freedom of belief. However, religious freedom is limited by the fact that Sharia law can override national law: Article 2 of the constitution establishes Islam as the state religion and Sharia as "the source of legislation". Also, there is a prevailing belief that anyone who leaves Islam is considered to have committed apostasy, an offence worthy of death. According to a 2013 Pew Research poll, 88 per cent of Egyptian Muslims favour the death penalty for anyone leaving Islam.
TIMELINE: BISHOY'S LONG STRUGGLE

1998 Bishoy, aged 16 and known as Mohammed Hegazy, left Islam and became a Christian. After his conversion the State Security Investigations Services (the Egyptian government's internal police, now known as National Security) arrested and tortured him several times but he refused to recant his faith in Christ. He had to go into hiding.
2007 In August 2007, when Bishoy and his wife Christine, also a former Muslim, were expecting their first child, he filed a lawsuit to attempt to make the Ministry of Interior change the religious affiliation listed on his national identification card from Muslim to Christian. The first Egyptian to file such a case, Bishoy said he did so mainly to protect his child from suffering the same persecution that he, as a convert, had experienced.
Stating a religion is mandatory on the state-issued ID card that every citizen aged 16 or older must carry. The card is necessary for many activities including opening a bank account, enrolling children in school or starting a business. It is easy for an Egyptian to convert legally to Islam, but impossible for a Muslim to convert legally to Christianity.
Less than a week after filing the lawsuit, a human rights lawyer dropped out of the case due to many death threats, including from members of the State Security Intelligence (SSI). As the case continued, Bishoy's home was set on fire, he was arrested and several times SSI officials beat him in custody. Islamic scholars demanded his execution, and the Minister for Religious Endowments publicly affirmed the legality of executing Muslims who convert to Christianity. Bishoy and Christine had to live in hiding, ostracised by their families. (Christine and their children now live in Europe.)
2009 Two lawyers, supported by a group of Islamists, filed a charge of defaming Islam ("blasphemy") against Bishoy, based on their assertion that the act of leaving Islam cast the religion into ill repute. The lawsuit was never settled and, according to Bishoy's lawyer Karam Ghobriel, it passed the Egyptian statute of limitations and became inactive. In April 2010, an appeals court suspended Bishoy's case indefinitely.
2013 On 2 December 2013, Bishoy was arrested at a cafá at the Agricultural Association in Minya, 260 kilometers south of Cairo, when covering Muslim attacks on Christians in Upper Egypt. He was charged with filming Muslim Brotherhood demonstrations without permission. Internal documents from the Ministry of Interior, obtained by Morning Star News, show that at the time of Bishoy's arrest the Ministry was employing at least one informant to follow him. The documents show that the officials who arrested him also arrested three journalists for documenting "sectarian attacks", but these three women were released after questioning.
JUNE 2014 In June 2014, Bishoy was found guilty of three charges arising from the arrest. He was sentenced to five years in prison and fined 500 Egyptian pounds (€59). The charges included "illegally filming anti-Christian demonstrations" (which the judge described as "disturbing the peace by broadcasting false information") and "spreading false information to cause harm or damage to public interest". Karam Ghobriel filed an appeal and petitioned for bail.
JULY 2014 In July, a judge in Minya ordered security officials to release Bishoy on bail until his conviction appeal was completed. However, in the 24 hours that state prosecutors had to comply with the judge's order, security officials took him into custody to be interrogated in Cairo for the 2009 "blasphemy" charge. The Supreme State Security Prosecution had apparently revived the blasphemy case as a pretext for remanding Bishoy in custody.
DECEMBER 2014 On 28 December an appeal hearing was held concerning the three charges relating to the 2013 arrest. The appeals judge dismissed two charges but upheld one, probably "inciting sectarian strife", and reduced the original five-year prison sentence to one year. Because Bishoy had spent more than a year in prison waiting for his trial and appeal hearing, he should have been released immediately, but the State Security Intelligence continued to hold him, without an opportunity to post bail, while they investigated the revived blasphemy charges.
JANUARY 2015 On 21 January 2015 the six-month time limit allowed under Egyptian criminal procedure to investigate the charges expired, but the SSI still refused to release Bishoy. "The investigation into the charges finished a long time ago," Karam Ghobriel said. "And as his attorney, I am allowed by law to examine the charging documents before the case goes to court; however, the investigator in charge is refusing to let me see or copy the documents related to the blasphemy case."
MARCH 2015 In an official complaint filed with the office of Attorney General Hasham Barakat in March 2015, 18 human rights groups from Egypt and around the world stated that the charges against Bishoy were "clearly related to his religious conversion" and that "his case is also a violation of international agreements to which Egypt has been party for decades". Human rights groups have said from the start that the charges against Bishoy were without merit, and they point out that the case has been riddled with legal irregularities.
(Morning Star News, Release International, World Watch Monitor)
Share this