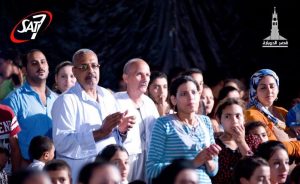 In July, churches across Egypt had to cancel all summer activities apart from church services, following an Interior Ministry warning of Islamist attacks. The ban has been lifted, and in September and October thousands of Christians attended at least six huge worship festivals and conferences around Egypt.
Three major conferences were held in Upper Egypt's Minya Governorate. On 29 September, the "Show Me Your Glory ll" conference in Deir Abou Hinnis brought together members of all 17 denominations of the Evangelical Synod of Egypt. Two "Days of Harvest" conferences, organised by Cairo's influential Kasr El Dobara Evangelical Church, were held in Etsa and Maghagha (pictured).
Hundreds of Christians gathered on 5-6 October at the Maghagha conference, which was held within 25 km of the location of the bus attack in May in which armed militants shot dead thirty Copts on their way to a monastery. The convoy of vehicles carrying the pilgrims had set out from Maghagha.
As well as gatherings in the south, large festivals have been held at Wadi Natroun, 100 km north of Cairo. Several thousand young people gathered at the "One Thing" prayer festival (21-23 September), while Brethren congregations attended the "Freedom Meeting" conference from 30 September to 1 October. "Count it Right", a family festival that can attract as many as 10,000 people, is being held from 26-28 October at the same venue.
Security precautions
Security precautions have had to be taken, however, especially for buses bringing Christians to the festivals. Organisers arrange transport to allow as many people to attend as possible, and buses have taken different roads to their destinations. (The "Days of Harvest" events are held in several locations each year so that Christians in poorer and less secure areas only have to make short journeys.)
Rachel Fadipe, Executive Director of SAT-7 UK, said: "Crucially, these festivals have been organised after detailed consultations and arrangements with Egypt's Interior Ministry and security forces. Nevertheless, Egyptian Christians' willingness to travel after a wave of terrorism since last December shows their depth of faith and refusal to surrender to fear."
Since December 2016, Islamist extremists have killed over one hundred Egyptian Christians, most in mass murders by suicide bombers and armed militants, but at least 18 in individual murders. Scores have been injured.
Broadcasts
For those who cannot attend the festivals, live broadcasting on satellite TV channel SAT-7 ARABIC TV and catch-up transmission on social media and YouTube brings them into the homes of Egyptians and of viewers across the entire Arab world.
Many who watched the festivals online sent their appreciation via email and social media. "My dear beloved SAT-7 team," wrote a man from Oman on Whatsapp, "All thanks to you for carrying the message of salvation to millions especially to those for whom TV becomes the only way they can watch it. For 15 years now, I have been a big fan and a regular viewer of SAT-7. It's hard to put into words how I have been interacting for three hours via TV with the last meeting at 'One Thing'."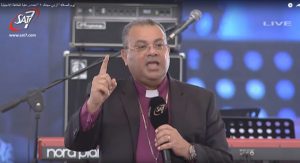 "Special thanks to SAT-7, the station that the Lord uses for His service and glory," said Dr Andrea Zaki (pictured), President of the Evangelical Churches in Egypt, at "Show Me Your Glory II". "I thank the founder, the director in Egypt and its crew members for the service that it provides across the Arab world. It is a station that serves the Middle East."
Addressing the conference, Dr Zaki said Egyptians are tired in the face of multiple challenges. "The circumstances are difficult. We prayed for the economy. People are in pain and feel dire circumstances. There's terrorism around us and our churches and our country have lost many martyrs. There's confusion and loss of truth… conflicts between generations… We all have questions, wondering where we are heading."
He drew parallels between the experience of Egyptians and that of the disciples in the gospel accounts of Jesus calming the storm. We should not think that Jesus "is sleeping and doesn't respond to our current storms," he said. Urging delegates to approach the challenges as Jesus would, neither looking to blame others nor to abuse their own power, he said that too often we look for solutions outside when only God has the power to calm the storm: "The solution was inside the boat. When they woke Jesus up, their problem was solved."
 (SAT-7)
Share this