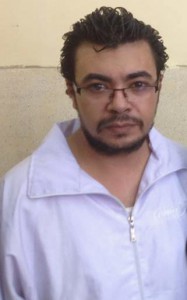 Two of three charges have been dropped against Christian journalist Bishoy Armia Boulous, formerly known by his Muslim name Mohammed Hegazy. He remains in jail because of prior blasphemy charges.
On 28 December 2014 an appeals judge found Bishoy Armia Boulous (31) not guilty on a charge of spreading information meant to "cause harm or damage to the public interest" and not guilty on the closely related charge of spreading false news "bound to weaken Egypt's prestige" or harm the "country's national interests". He had been arrested in December 2013 when covering the persecution of Christians in Upper Egypt.
However, Bishoy was found guilty of a charge that has not yet been specified, probably inciting sectarian strife, and was sentenced to one year in prison. Because he had spent more than a year in prison waiting for his trial and appeal, he should have been released at the conclusion of the 28 December hearing, but instead he was held without an opportunity to post bail because of blasphemy charges filed against him five years ago (see below).
Bishoy is well known in Egypt as the first citizen to attempt to change his legal religious identity from Muslim to Christian, in a case begun in 2007. Lawyers believe the state is punishing him for his conversion by holding him on charges past their statutory limit, and doing so without any possibility of bail. One of his lawyers, Karam Ghobriel, said there is no hope of the Ministry of the Interior (MOI) releasing Bishoy any time soon: "There is no hope at all, because he is still in jail for the investigation of his blasphemy case."
Bishoy told the lawyer that he has been tortured in jail and is being housed with violent criminals.
Bishoy was arrested in December 2013 in Minya in Upper Egypt (260 kilometres south of Cairo) where he had been documenting persecution of Christians in the region. He was charged with filming Muslim Brotherhood demonstrations in the Minya governate without permission. After being held for six months, in June 2014 Bishoy was sentenced to five years in prison for "illegally filming anti-Christian demonstrations", which the judge described as "disturbing the peace by broadcasting false information", and was fined 500 Egyptian pounds (€59). He was also accused of "spreading false news and rumours".
Karam Ghobriel petitioned for bail, and in July 2014 a judge ordered security officials to release Bishoy. However, in the 24 hours that prosecutors had to comply with the judge's order, security officials from the MOI took Bishoy into custody to be interrogated in Cairo.
Initial appeal hearings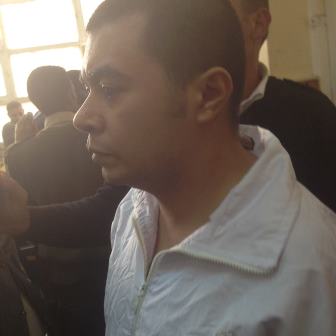 At an initial appeal hearing on 16 November in Minya, the judge failed to appear. At a hearing on 23 November (which Bishoy is pictured attending, left), Karam Ghobrail submitted his defence before the court, declaring that there was no proof that his client had broken any law, and that he had been arrested without legal authorisation. The prosecution claimed that Bishoy was circulating false statements that disturbed public security, but Karam Ghobrial said that no evidence had been produced to back up this accusation. Judge Ahmed Abdel Aziz el-Ghool said that he would announce his verdict at the final hearing on 28 December.
Several days after the 23 November hearing, Bishoy's lawyer learned that on 1 December he had been arbitrarily detained in a solitary "execution" cell reserved for death penalty prisoners.
"[He was] detained inside the execution chamber in violation of the law, because he is in custody under investigation," said Karam Ghobrial, describing it as a "malicious attempt to take revenge" against his client for his religious beliefs.
After one night in the death penalty cell, Bishoy said he would start a hunger strike if he were not removed. He was transferred the next day.
Targeted
Karam Ghobriel and human rights activists have stated that the government was targeting Bishoy at the time of his arrest in December 2013. Internal documents of the MOI obtained by Morning Star News show that the MOI employs informants to follow converts from Islam. An informant was following Bishoy when he was arrested. Karam Ghobriel stated that when officials interrogated Bishoy, they already had a complete dossier on his religious life, including details of his conversion and baptism.
Officials said that Bishoy, who was arrested with a camera, four flash drives and a notebook, was contributing to a "false image" that there was violence against Christians in Minya. In fact, Christians in Minya did suffer well-documented violence in December 2013, including kidnappings, assaults, destruction of property and attacks on church buildings that mobs of militant Muslims burned to the ground.
Conversion and blasphemy charge
Bishoy left Islam for Christianity when he was 16. On 2 August 2007, he applied for legal Christian identity, when he filed what became a very public lawsuit to attempt to make the MOI change the religious affiliation listed on his national identification card from Muslim to Christian.
Religious freedom is guaranteed under Egyptian law but is limited by various interpretations of Sharia (Islamic law), which can override national law. It is easy for an Egyptian to convert to Islam, but impossible for a Muslim to convert legally to Christianity. Every citizen aged 16 or older must carry a state-issued ID card, which is necessary to open a bank account, enrol children in school or start a business, among other activities.
Bishoy said he filed his lawsuit mainly to protect his soon-to-be-born child from suffering the same persecution he experienced as a convert. In less than a week of filing the 2007 suit, a human rights lawyer dropped out of the case due to death threats from numerous figures, including members of the State Security Intelligence (SSI). Several well-known sheikhs called for Bishoy's death and he and his wife, also a convert from Islam, were forced into hiding. As the case continued, Bishoy's home was set on fire, he was arrested and several times SSI officials beat him while in custody. His wife and children now live in Europe.
In 2009, two lawyers supported by a group of Islamists filed defamation charges against Bishoy. The charge of defaming Islam ("blasphemy") was based on the accusation that the act of leaving Islam casts the religion into ill repute. In April 2010, an appeals court suspended Bishoy's case indefinitely. Then came the 2011 revolution, followed by the ousting of an elected Islamist government, and two constitutions were written and voted on by referendum.
In July 2014 the Supreme State Security Prosecution revived the blasphemy case as a pretext for remanding Bishoy in custody, after the Minya court released him until his conviction appeal was completed.
(Morning Star News, World Watch Monitor)
Share this