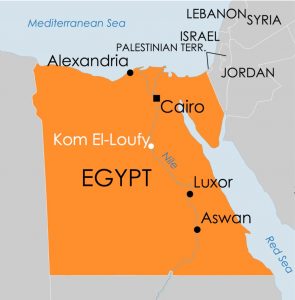 On Holy Thursday (13 April), three homes belonging to Coptic Christians were burned and eight people were injured in the village of Kom El-Loufy, in the Minya Governorate (250km south of Cairo). The attack took place shortly after the villagers held a prayer service in a local Christian's home.
A local Christian explained: "We asked the local security authorities to grant us a permit [to] hold prayers and they agreed and security forces came to give us protection.
"At about 10.00 am after the worship ended, we started on our way to our homes. Then a mob of Muslims gathered and began to attack us and our homes. They hurled stones at our homes and set fire to three houses owned by Christians named Issa Saroufim, Morris Botros, and his brother Faris Faris.
"They also injured two Christian women named Amel Rizk, whose arm was broken, and Camelia Sawiris, whose leg was broken. Six other Christian men were injured. Their names are Girgis Shenouda, Nagy Mahrous, Nadr Khalifa, Younan Khalaf, Samir Ayad, and Milad Azmy.
"All these attacks occurred despite the presence of the police in the village. There are eight big cars from the central security and more than 15 police cars. I don't know why the police haven't arrested anyone."
Approximately 1,800 Christians live in Kom El-Loufy village, where there is no local church. In June 2016, homes owned by four Christian brothers were looted and burned by radical Muslims after rumours circulated that one of the four brothers, Ayoub Khalaf Fahmy, was building a church in the village.
Building churches in Egypt
The building and repairing of churches in Egypt has been a controversial issue for decades. Churches have faced great difficulties in obtaining government permits to construct new buildings and repair existing ones. It has been almost impossible to obtain a licence to build a new church. Building a mosque requires only a regular planning permit, but until recently building a church required a presidential permit and years of paperwork, while the authorities procrastinated and sidelined applications. Christians have been attacked by Muslim mobs suspecting them of carrying out unauthorised repairs or using homes for church services.
On 30 August 2016, the Egyptian parliament passed legislation intended to make it quicker and easier to obtain permission to construct and repair church buildings. While many welcomed the legislation, some Copts and human rights NGOs consider it restrictive, for instance in regard to stipulations about the size of new church buildings. Also, they are concerned that the law may actually entrench discrimination: instead of requiring presidential permission, applications must now be submitted to provincial governors, who are required to consider "the preservation of security and public order", which might give grounds for refusal if governors are pressurised by local Muslims resistant to church building. These restrictive conditions do not apply to applications for mosque building.
(International Christian Concern, World Watch Monitor)
Share this