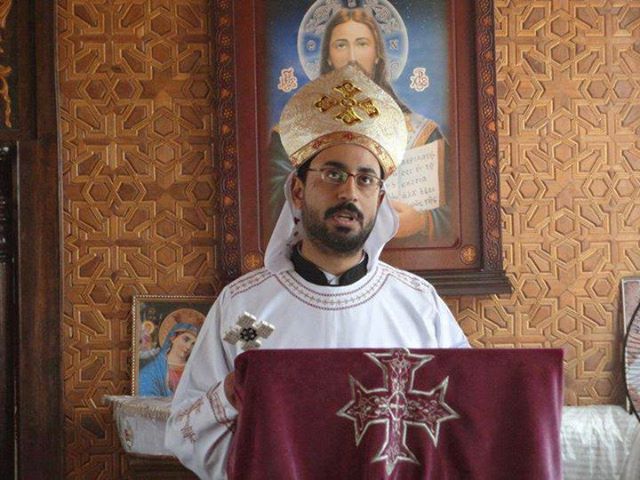 A priest in Northern Sinai has been shot dead and four Copts killed near Luxor in the wake of the deposing of President Mohamed Morsi. Mobs of hard-line Muslims have attacked Christian homes, business and church buildings, enraged over the deposing.
On Saturday 6 July in the town of El Arish in Northern Sinai, masked gunmen shot and killed Rev Mina Aboud Sharubim (39) in front of a church-owned building. The Coptic priest was well-known and liked in El Arish, a small town on the Mediterranean coast not far from Egypt's border with Gaza. Local Christians and Muslims say they are convinced that the killers were outsiders who had gone in to create division and spread terror in the community.
Four killed in Luxor attack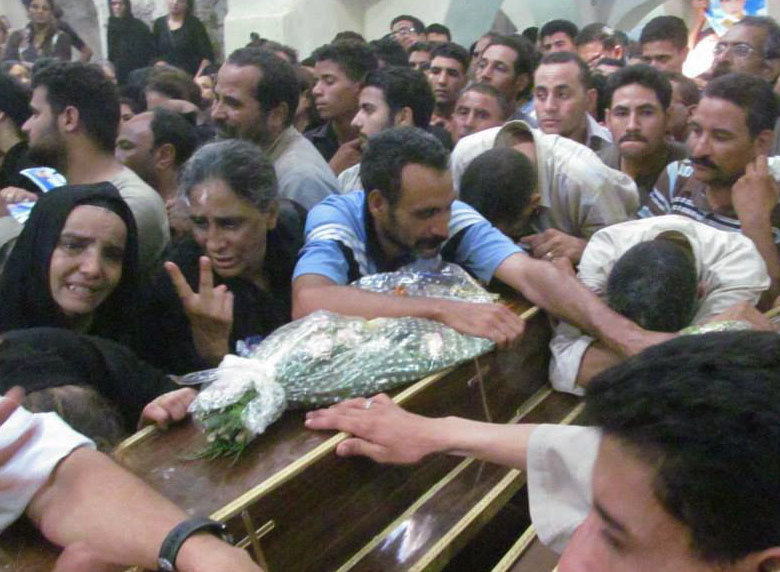 On Sunday 7 July, the funerals were held of four Copts killed in Al Dabaya village outside Luxor. On Friday 5 July, Islamists attacked Coptic Christian Emil Naseem Saroufeem (42). For unknown reasons they blamed him for the death of a Muslim whose body had been found earlier that day. Emil Naseem Saroufeem was known to be a supporter of the Tamard movement. A mob began beating him, but he escaped briefly when two relatives, Mouhareb Noushy Habib (38) and Romany Noushy (33), hid him. The rabble caught up with the three Christians in the apartment of Rasem Tawadrous Aqladios (56) and killed all four men, by bludgeoning, beating and repeated stabbing.
The assailants then beat other Coptic villagers – three were seriously wounded – and looted and burned down their homes. About 20 homes were destroyed. Most of the Christian villagers have left and are homeless because they are afraid to return or have no homes to which to return. About 95 families are staying at the church of Mar Youhana.
Other attacks
In other attacks on churches and Christians' property, dozens of homes and businesses were burned down, several churches were attacked and a church guesthouse was destroyed.
In the early hours of 3 July in the village of Delgia in Minya Governorate, dozens of Morsi supporters attacked the evangelical Al Eslah Church building. They fired shots at and looted the building and also attacked some local Coptic-owned homes. Witnesses said the mob then moved on to a Catholic church in Delgia, St George Church, and burned down a guesthouse where a priest lived. They pelted the church building with rocks, fired weapons at it and destroyed the priest's car. The priest was in the guesthouse but escaped the fire through a hole in the roof: a group of Muslim neighbours pulled him out and hid him from the mob. The guesthouse was destroyed along with several Christian-owned businesses.
Later that day, a group of Islamists tried to attack the main Coptic cathedral in Qena, but the military fought them off. The group moved on to attack Christian-owned homes and businesses in the area. On the same day, a mob attacked the Church of the Holy Virgin in the coastal town of Marsa Matrouh with stones, but the military repelled them.
On Friday 5 July, a serious attack occurred in Naga Hassan village, west of Luxor, after a Muslim was killed in a fight with a Coptic Christian. In the rioting that followed, Muslim villagers looted and burned Christians' homes and businesses, and burned down dozens of homes. Expecting more attacks, police asked Copts in the village to leave their homes until the fighting stopped. The Church of the Virgin Mary in Luxor was also attacked. "I am too scared to leave – I haven't been able to go outside my house for four days," said Maria, a church member in her 30s who requested that her last name be withheld for security reasons. Salafist mobs have attacked the building unsuccessfully several times since 30 June.
Political Background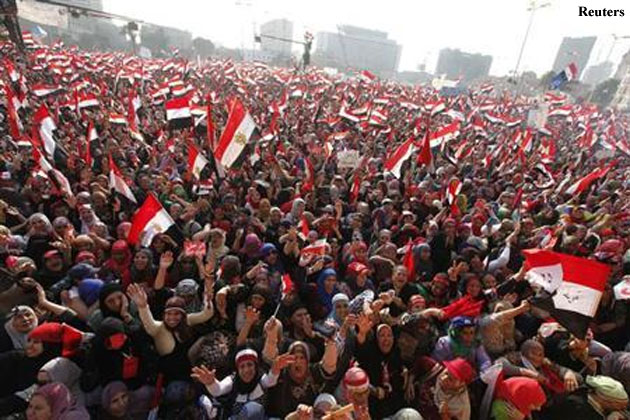 On Sunday 30 June, millions of protestors from the Tamard or "Rebel" movement gathered in cities across Egypt demonstrating against President Morsi and the Muslim Brotherhood's ruling Freedom and Justice Party, In the weeks leading up to the demonstrations, Islamists issued threats against Christians, whom they held partly responsible for the movement, and only hours after the Egyptian military announced on 3 July that it had deposed President Morsi, attacks against Christians began.
Samia Sidhom, managing editor of the Coptic Weekly Watani, said people wanted President Morsi out because he was more interested in consolidating the power of the Muslim Brotherhood than putting Egypt on a solid road to the future. She claimed that the Freedom and Justice party lied to the public: "Their priority was not the Egyptian people, but establishing an Islamic caliphate. They said they would be inclusive; that they would make Egypt a prosperous country. But once they got into office, they did the exact opposite."
When he was forced from office, in what many see as a coup, Islamists blamed Christians, the military and secularists. In numerous television shows, they called for Christian "blood to be spilled".
The Washington Post reported on 5 July that a jihadist website was blaming Christians for President Morsi's downfall. Stating that Muslim extremists within and outside of Egypt had called for violence, the newspaper reported that the website announced a new group, Ansar al-Sharia in Egypt (Partisans for Sharia in Egypt), which "rejected democracy as anti-Islamic and called on Egyptian Muslims to 'Äòtruly rise against everyone who stands in the path of implementation of the Sharia'".
(AINA, THe Independent, Morning Star News, Voice of the Martyrs Canada)
Share this