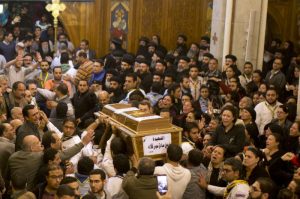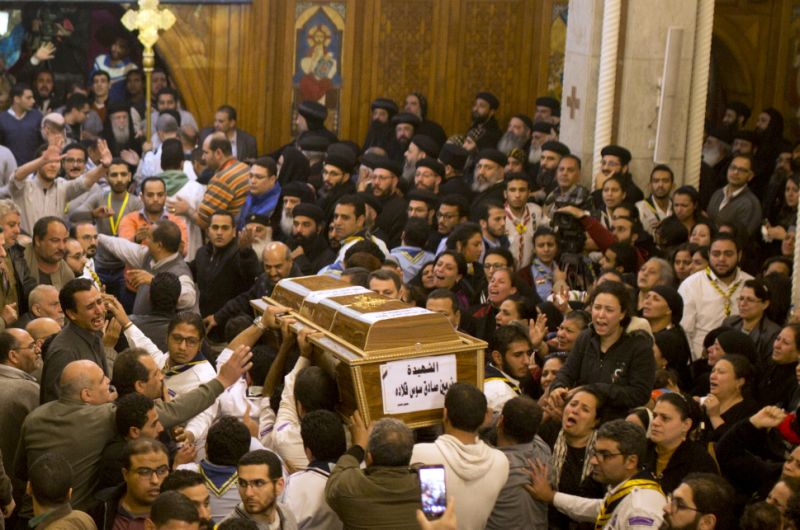 Gunmen killed nine people in Helwan, just south of Cairo, on 29 December. Six were Christians leaving a service in Mar Mina Coptic Orthodox church, one was a Muslim police officer on security duty at the church building and two were Christians shot in a nearby shop. (Sources initially said up to nine Christians had been shot dead at Mar Mina.) At least five other Christians were injured in the church attack, which was claimed by an affiliate of Islamic State.
Security at Mar Mina had been increased since early December, with police checkpoints at the gates. Some nearby streets had been closed during church services, and some indefinitely.
Church attack
Two gunmen arrived at the church building on motorbikes at about 10.30 am, as the service ended. One of them dismounted and tried to break through the security barrier but the police stopped him. The gunman shot a police officer dead, then shot at parishioners as they came out – witnesses said the gunmen fired at the door, walls and worshippers, leaving bullet holes and blood around the building.
Six Christians were killed: Wadih Al-Qomes Markos Boutros, Emad Abdel Shahid, Safaa Abdel Shahid, Evelyn Shukrallah Atallah, Wagid Ishaq Ghobrial and Nermin Sadiq Souss. The Muslim police officer who died was named as Redad Abdel Rohman.
The security forces fired back and hit the first gunman. The Interior Ministry said he was wounded and arrested, but the Health Ministry and state media said he was killed. The Interior Ministry named him as Ibrahim Ismail Mustafa (33) and said that he had been involved in previous attacks. His accomplice tried to break through the security barrier and enter the church building with explosives but when the security forces began firing he fled by motorbike.
One witness told a Morning Star News contact, "We were running everywhere, not knowing where to go in terror. The man was walking in broad daylight holding his machine gun and shooting at wherever he wants. He showed no fear and was on a rampage. Empty cartridges were on the ground, the church wall was riddled with bullet holes, and patches of bloodstains on the ground had not yet dried. People were crying, and others were silent in shock."
A member of Mar Mina, Girgis Nady, said: "After the terrorist fired on the guards, he tried to enter the church, but the young people from the church managed to close the main door from inside. That was a miracle from God to protect his people because if this terrorist had been able to enter the church, the number of victims would have been in the hundreds."
Health Ministry spokesman Khaled Megahed told state television that five people were injured in the attack, including two women who were in a critical condition. The day after the attack, Health Minister Ahmad Emad Eddin Radi said all the injured were stable.
The two Christians who suffered severe injuries underwent surgery. One of them, Christine Wadie, is in her final year in school and lost both her parents in the shooting. She suffered a comminuted fracture and separated shoulder, and had successful orthopaedic surgery at Nasser Institute Hospital.
Before the church shooting, at least one of attackers fired on a Coptic-owned appliance shop nearby, killing the owner's sons Romany and Atef Shaker Roshdy.
"Such incidents increase our determination to go to church"
After the attack, Father Boulas Younan of Mar Mina said, "The attackers chose our church because it is small and the number of police assigned to guard it are few. It was easy for them to attack and control the situation. They had planned for everything and were crafty. They knew the church entrances and exits very well. They attacked the shop first to keep the police busy.
"This attack confirms the attempts of those terrorists to disrupt our celebrations of New Year and Christmas. They wanted to spoil our joy of Christmas and New Year, they want to intimidate us and prevent us from going to church to pray. But such incidents just increase our determination to go to church, and fight terrorism and uproot it. The terrorists have no religion and no homeland. We join hands with each other, Muslims and Christians, to confront this brutal terrorism."
Funeral service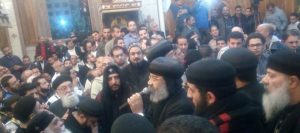 A funeral service for the eight Copts was held at 7 pm on the day of the attack. Thousands attended, Muslims as well as Copts. At the service, Anba Raphael (pictured), Secretary-General of the Coptic Orthodox Holy Synod, called on the government to fight terrorism through education and the media. He said: "There are no more words to be said… The Church's voice is hoarse with decades of crying against terrorist thought. We do not fear martyrdom. We firmly believe that the Copts killed for their faith are now in a better place. But we fear for Egypt. The terrorists are targeting Egypt, so fighting terrorist thought is a matter of national security."
Coptic Christians celebrate Christmas on 7 January, and they are concerned about more attacks. Police and the armed forces have reportedly increased security and closed all churches in the Helwan area.
Prayer at Cairo's Kasr el-Dobara church
At a service in Cairo's Kasr el Dabara Evangelical Church on the day of the attack, Pastor Sameh Hannah led the congregation in the following prayer for Egypt:
"We want to pray for Egypt, [that] God will protect his people. Evil wants to spread terror and sadness in people's homes… Pray for protection so the Lord will send armies of angels to protect his people and do great things. All evil council shall cease, and sadness will be no more. Any plots to bomb churches and kill people shall stop. Although the evil spirits are very active these days, God is powerful, higher and stronger. Pray for protection of our churches, our police, our army… Your people shall be stronger in faith and without fear, hanging on to You. Proclaim your faith now, church of Egypt! The churches will be filled because Your people know that You are present and protect them. Let's pray together and ask for the protection of Egypt and the uncovering of all evil plans against it. Lord, protect this country for the sake of Jesus Christ. As we celebrate Christmas, we remember the voice that came from heaven – 'peace on earth' – we want peace on our earth and joy to the people."
(Morning Star News, Sat-7, Watani, World Watch Monitor)
Share this