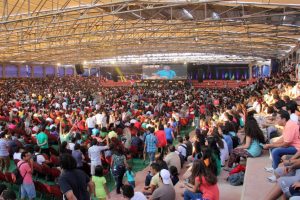 Egyptian churches have temporarily cancelled all summer activities apart from church services following an Interior Ministry warning of Islamist attacks. Popular summer activities for Egyptian Christians of all ages include camps, outings and visits to monasteries, retreats and conferences (such as the pictured gathering for 11,000 Egyptian Christian young people). All such events have been cancelled for at least three weeks from mid-July.
The Interior Ministry sent letters to churches saying investigations revealed that Islamist terrorists were planning nationwide attacks against the military, police, Copts and churches. The Ministry asked churches to take all precautionary measures during the three weeks and until further notice, and said all trips to monasteries and conventions, or any activity involving any type of gathering, should be cancelled.
Interior Minister General Magdy Abdel-Ghaffar said security would be intensified on all public buildings, including churches and monasteries, all over Egypt. He said operations rooms would be set up in churches to monitor the security situation round the clock, and that security staff would be aided by the military and would be provided with resources such as weapons, armoured vehicles, police dogs and surveillance cameras.
The heads of the Coptic, Catholic and Evangelical churches responded immediately to the Interior Ministry's warning by cancelling all summer activities and telling those on trips or at camps to cut short their activities and return home early.
Rev Dr Andrea Zaki, President of the Protestant Community of Egypt and General Director of the Coptic Evangelical Organisation for Social Services, said in an official statement: "In light of recent developments, please stop all church trips and conferences [for] the next three weeks of July 2017. This is a serious matter." He told AFP news agency that outside events were cancelled, not church services, adding: "We are talking about conferences and travel for religious events, for three weeks, because we have information in cooperation with the responsible agencies that attempts to attack have been detected."
Coptic Orthodox spokesman Fr Boules Halim said his denomination had issued similar instructions and was asking churches to wait for further information when the three weeks are up. Similarly, spokesman for the Egyptian Catholic church Fr Rafik Greish said the church "complied with the interior minister's decision to cancel church trips and camps until further notice".
Deadly attacks
The warnings follow a series of murders and bombings of Egyptian Christians since the start of the year, mostly claimed by Islamic State, which in February vowed to "wipe out" Egypt's Copts.
Between 31 January and 23 February, militants killed seven Coptic Christians in Al-Arish, North Sinai Province, and hundreds of terrified Christians fled Sinai. Elsewhere in Egypt, five Copts were murdered in under two weeks in January.
On 9 April, Palm Sunday, at least 49 people were killed and over 120 others were injured when suicide bombers attacked two Coptic churches.
On 26 May, militants killed thirty Copts and injured 25 others in an attack on a convoy of buses carrying pilgrims to St Samuel Monastery in Minya, southern Egypt.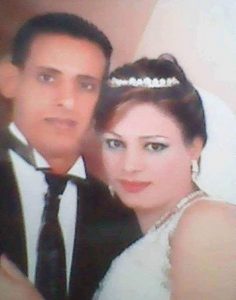 Between 26 May and 6 July, unknown attackers murdered five Copts, four men and one woman, leading to even more fear among Copts. Nadra Mounir (26), pictured with her husband Girgis Samir, was found dead in her flat in Cairo on 6 July. Her neighbour Nabil Girgis told World Watch Monitor, "We live in peace and love with our Muslim neighbours… But after this incident, there is a state of fear and terror among all of us, and we feel that we can be targeted at any time."
This year's attacks follow the killing of 28 Christians in December 2016 in a bomb attack, also claimed by Islamic State, on a chapel attached to St Mark's Coptic Cathedral in Cairo. Another 65 Christians were injured in the bombing.
Church guard stabbed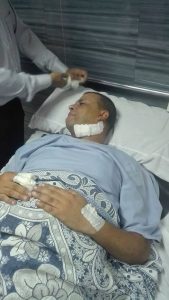 On 15 July, a young Muslim man attacked a church guard in Alexandria and stabbed him in the neck. Mina Fouad Zakhary (47), also known as Mina Salama, was guarding the gate of the church of St Mark and St Peter the Last of the Martyrs in Sidi Bishr, Alexandria, when Abdullah Adel Ahmed Hassan (24), an unemployed law school graduate, attempted to enter. Zakhary stopped him and asked where he was going, whereupon Hassan took out a razor blade and stabbed him in the neck.
Other guards hurried to rescue Zakhary, who recovered sufficiently to help them catch and subdue Hassan, who was carrying a laptop and a mobile phone connected to headphones on which he was listening to Quranic verses. Zakhary was then rushed to St Mark's Hospital (where he is pictured) for stitches; his condition is stable. Hassan was arrested and taken to the nearest police station. When asked why he carried out the stabbing, he answered, "I defend my religion" and said he wished to "go to Paradise" by killing the church guard.
Living as a target for terrorists
SAT-7's Egypt Communications Officer Mary Joseph, who is based in Cairo, wrote about Christians' heightened fears in a recent blog posting, Living as a target for terrorists. Mary Joseph lost her aunt and cousin in an explosion, and another aunt was badly injured and remains bedridden in hospital.
She wrote, "There was a new routine on Palm Sunday this year. On a day when many families in Egypt usually go to church together to celebrate, families were separating: going to attend mass in twos and threes in different churches. One parent would take one or two children; the other would take the rest. This new pattern is a precaution some are taking so that at least some of the family will survive in the event of a bomb attack."
(Al Arabiya, Al Jazeera, SAT-7, Watani, World Watch Monitor)
Share this