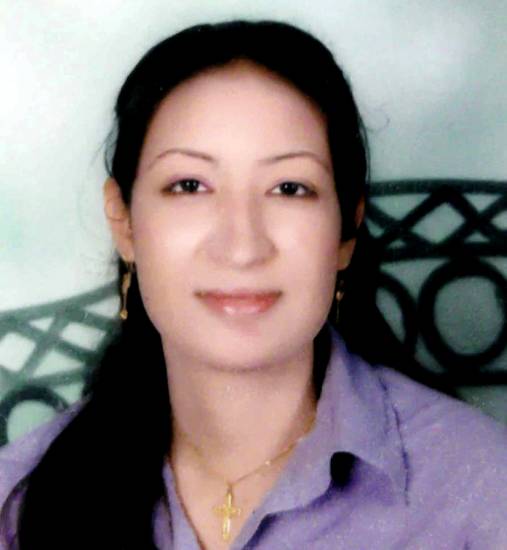 Dimyana Obeid Abd Al-Nour (24), the Coptic teacher detained on accusations of blasphemy, has been released after posting bail of 20,000 Egyptian pounds (approximately €2,218). A court hearing is set for Tuesday 21 May, but the prosecutor general's office is continuing its investigation and if its lawyers decide to charge Dimyana, prosecutors could go forward with a trial the same day.
Mohammed Noubi, a human rights advocate with the Luxor office of the Egyptian Initiative for Personal Rights, who is working with Dimyana's lawyers, said she was at home struggling under the weight of the accusations and investigation. "The situation is really bad; she is emotionally devastated," he said.
Detained without charge
Dimyana is a social studies teacher who rotates among three schools in Luxor Province, and is widely respected by her colleagues. She was detained on 8 May after parents of three pupils and some teachers accused her of defamation of Islam, insulting the Prophet Mohammad and proselytising. The other ten pupils in the class said that she was blameless.
The teacher was initially detained for four days, without charge, pending the outcome of an investigation by the general prosecutor's office, but on 11 May a judge extended her detention for a further 15 days. Two days after being detained, Dimyana went on a brief hunger strike, but her family talked her out of it. The teacher's union in Luxor said that all investigations confirmed her innocence, and that they have assembled a team of lawyers to defend her.
On 8 April at a primary school in the village of Al-Edisat, Dimyana gave a lesson on religious life in the time of the pharaohs. The lesson touched on Judaism, Christianity and Islam, and she taught about Pharoah Akhenaten's adoption of a form of monotheism. An inspector was present. Two days later, Dimyana was advised that her mandate to teach at the school was cancelled, because three pupils had accused her of making blasphemous comments. In one version of events, Dimyana is alleged to have made comparisons between the former head of the Coptic Orthodox Church, the late Pope Shenouda III, and the Prophet Muhammad.
The three pupils, along with their parents and a few teachers, had complained to the school administrator, and school officials contacted legal authorities. Dimyana was questioned by the school director and three committees. She denied all allegations and was absolved by the committees, but the local ministry of education still suspended her from teaching pending further investigation.
"A witch hunt started against her, with parents of children from that school asking for her dismissal," said Coptic activist Wagih Yacoub. "Some parents hired lawyers and presented a complaint to prosecution, accusing her of defamation of Islam and proselytising, based on the allegations of three children less than ten years old."
Reaction
Amnesty International condemned Dimyana's detention and demanded her release, in a statement issued on 10 May: "It is outrageous that a teacher finds herself behind bars for teaching a class," said Hassiba Hadj Sahraoui, deputy Middle East and North Africa programme director. "If she made some professional mistake or deviated from the school curriculum, an internal review should have sufficed. The authorities must release Dimyana Obeid Abd Al-Nour immediately and drop these spurious charges against her."
Naguib Gabriel, a Coptic lawyer who is head of the Egyptian Federation of Human Rights, filed a memorandum to the Egyptian prosecutor-general, asking for the immediate release of the teacher and other Copts who are in prison. "Copts are fed up with being prosecuted on charges of evangelism and contempt of Islamic religion, especially since there is no article in the penal code that criminalises preaching," Naguib Gabriel said, adding that this is the 18th incident of a Christian teacher being arrested on charges of defaming Islam. "We are in the process of documenting all violations and persecution of Coptic Christians to announce these systematic practices," the lawyer said, commenting that it is impossible for Copts to exercise their rights under the Muslim Brotherhood government.
Disproportionate use of blasphemy statutes against Christians and those working in education
Human rights officials say that the accusations against Dimyana reflect two growing trends in Egypt: disproportionate use of the blasphemy statutes against Christians, and blasphemy charges against people working in education.
Ishak Ibrahim, freedom of religion and belief officer for the Egyptian Initiative for Personal Rights (EIPR), said that people are targeting Christians using the blasphemy statutes as a weapon. An EIPR study to be released at the end of this month found that 41 percent of blasphemy cases taken to court from 25 January 2011 to 31 December 2012 were filed against Christians, who make up only about 10 percent of the population. Sunni Muslims, who make up almost 90 percent of the population, were charged in 59 percent of the cases. The EIPR noted that sentences are harsher for Christians than Muslims.
Of the 36 blasphemy cases brought to court, only one case was filed against someone for blaspheming Christianity, despite an almost constant stream of insults by religious leaders against Christianity on television and radio. That single case, a blasphemy charge against Sheik Abu Islam for burning a Bible in front of the U.S. Embassy in Cairo, was dismissed.
An example of biased punishment is the case of Makarem Diab (50), a Christian sentenced to six years in prison in February 2012 for what amounted to an argument with a Muslim colleague over religion. Makarem and Abd Al Hameed worked at a school in Assuit Province. During an argument, Abd Al Hameed claimed that Jesus had had sex with at least ten women, and Makarem Diab countered by stating that Muhammad had more than four wives (a view commonly held by Islamic scholars, though disputes arise over whether he had more than four wives over the course of his life or at one time). Abd Al Hameed was not charged for his comment.
"It's bigotry," said Ishak Ibrahim. "One person got sentenced, and the Muslim got away with it." He said that he expects to see an increase in charges against Christians, as the new constitution uses vague language that could prohibit evangelism, and it more explicitly criminalises criticism of Islam. "It is getting worse, with the change of the constitution, as there is a specific sentence that punishes those who insult Islam," he said.
Ishak Ibrahim also noted that approximately 30 percent of the blasphemy cases filed were against someone in an education environment. Not all those charged have been sentenced, but five teachers, one schoolmaster, one school secretary, one activity supervisor, three students, three university teachers and five university students were either sentenced to prison, sacked, expelled or forced out of their homes by the courts or by decisions handed down by "reconciliation councils".
(AllAfrica, Assyrian International News Agency, Morning Star News)
Share this