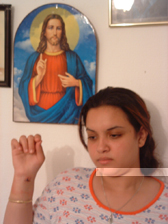 The family of the 17 year-old Coptic Christian girl kidnapped last month have released her name – Heidi Salib. This development comes as their concern increases for their daughter – who went missing on 2 June.
Following international diplomatic enquiries, local police originally said that Heidi ran way from her family. However, they have since said that they don't know anything about the case. They have indicated that the 30 year-old Muslim man, Mustafa Ahmed Mohammed (who previously abducted Heidi in April) is also missing.
Heidi's family fear that she may be suffering physical and sexual abuse Рbased on her experiences in April. During that abduction, a cross tattoo on her hand (worn by many Coptic Christians) was forcibly removed. Heidi was also forced to accept Mustafa Ahmed Mohammed as her husband in an illegal underage marriage. During the April abduction, local police at Rod El Farag in Cairo blocked her return to her family.
Heidi's family also fear that as soon as she turns 18 she will be coerced into making a formal conversion to Islam, at which point she may be lost to her family forever. (Barnabas)
CCFC has followed up its letter to the Egyptian Ambassador with a request for a meeting to discuss this case.
Share this