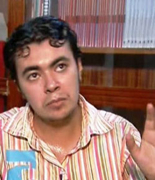 A well-known Christian has been jailed for allegedly inciting "sectarian strife", and is likely to be tortured.
The Egyptian authorities have arrested a Christian journalist who is probably the nation's most famous convert from Islam and are investigating him for several activities, including allegedly inciting "sectarian strife." Bishoy Armia Boulous (31), formally known by his Muslim name Mohammed Hegazy, was arrested on 4 December at a cafe in El-Badraman, Minya Province, 260 kilometres south of Cairo. He had apparently gone there to talk to Christian victims of recent violence. Boulous has been remanded in custody for 15 days of interrogation and investigation.
Security forces said he had a camera and four flash drives when they arrested him. They said he claimed he was working for The Way TV, a Coptic-owned, US-based religious television channel that broadcasts into Egypt via satellite.
According to a media statement by the head of Minya police Lt Amr Hassan, Boulous has been imprisoned pending an investigation into charges of inciting violence. Several Egyptian newspapers have reported that he is also being investigated for espionage. Advocacy organisation United Copts claims he is being investigated for evangelism, although "proselytism" is not officially a crime in Egypt.
Security forces claimed that Boulous was contributing to a "false image" that there is violence against Christians in Minya. The authorities accused him of spreading "inaccurate imges of oppression" against Copts. Lt Amr Hassan told the media that reports of persecution against Copts in Minya are "not true." In fact Minya city and province have been the site of numerous attacks (increasing in recent months) on Christians, church buildings and Christian-owned properties, all documented by journalists, domestic non-profit organisations and international human rights groups.
Those familiar with Boulous said his arrest had nothing to do with any reporting work but is to do with his being a Christian convert. Boulous became famous – and controversial – across Egypt when in August 2007 he filed a legal case to have his religion and name changed on his government-issued identification card.
Human rights activists said they fear for Boulous' safety. "There is no doubt that he will be tortured," said Mamdouh Nakhla, chairman of the Kalema Organisation for Human Rights, who represented Boulous through part of his ID card case. "Those who have previously been in his place have been tortured – if not by the police, they are beaten by their fellow inmates."
In a 2010 poll, 84% of Egyptian Muslims said the state should execute those who leave Islam.
Background
Bishoy Armia Boulous became a Christian in 1998. After his conversion he was arrested several times by the former State Security Investigations Service; he said its agents tortured him for three days during one of his periods in jail. He refused to recant his faith in Christ.
Boulous was the first convert in Egypt to file suit to change his legal religious identity, bringing a case against the Egyptian government to change the religion listed on his identification papers to Christianity. He said the main reason he filed the suit was to protect his children from experiencing the persecution he suffered for becoming a Christian.
After filing the suit Boulous was forced into hiding because of attacks and threats against his life. In one incident, for several days extremists surrounded a home where Boulous was no longer living. In another, a group of men broke into his apartment while he was away and set it on fire. He said it was impossible to hold a job because he could not leave his apartment regularly for fear of being attacked by Islamists or state security police.
In November 2007, at a court hearing in Giza, eight Islamist lawyers intervened against Boulous. Judge Muhammad Husseini adjourned the case until 15 January 2008, giving Boulous time to acquire proof that Egypt's Civil Status Department had rejected his request to change the religious designation on his ID.
In January 2008, a court ruled against Boulous on the grounds that sharia law forbids conversion away from Islam. According to a report issued by the US Commission on International Religious Freedom, "The court also stated that such conversion would constitute a disparagement of the official state religion and an enticement for other Muslims to convert."
In April 2010, an appeals court suspended the case indefinitely, while it waited for the constitutional court to rule on a previous case dealing with religious identity. Before those cases could be resolved, the constitution was rewritten following the 2011 revolution. Another constitutional revision is underway following the ousting of the Muslim Brotherhood-led government in July 2013.
According to Mamdouh Nakhla, Boulous' wife (also a former Muslim) and their two children are living in an undisclosed country in Europe.
Conversion and ID cards
Under Egyptian law, every citizen aged 16 or older must carry a state-issued ID card. The card is necessary for anyone who wants to open a bank account, enroll children in school or start a business, among other activities. Also, religious identity determines many of the civil laws to which one is subject.
Religious freedom is guaranteed under Egyptian law but is limited by various interpretations of sharia law, which under the past two constitutions trumps national law. While it is easy to convert to Islam in Egypt, it is impossible for a Muslim to convert legally to Christianity.
The Way TV
It is unclear why the Egyptian government claimed Boulous was working for The Way TV. Its head, Joseph Nasrallah, said in an on-air statement on his channel, "The Tarik [Way] Channel had nothing to do with Mohammed Hegazy, who is known as Bishoy Armia Boulous, in any way." But he told Morning Star News that Boulous, who has worked as a journalist, approached The Way TV seeking employment. Nasrallah said he told Boulous he would consider hiring him but had not done so: "He offered to work, but I said to him, 'ÄòLet me get back to you. I will consider that.'"
Nasrallah said he was helping Boulous financially and has secured a lawyer to assist him. "He was not working for The Way TV, but we will never forsake him," he said. However, he added that Boulous was in Minya with a reporter.
It is possible that Boulous was in Minya collecting information on his own for "The Way TV" to prove his value to them; it is also possible that he either misunderstood or misrepresented his relationship with "The Way TV" to Egyptian authorities.
(Compass Direct News, Morning Star News, Religious Liberty Prayer Bulletin)
Share this