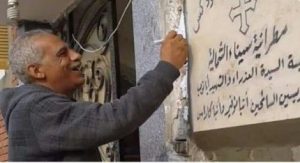 Islamic State terrorists have executed Nabil Habashi Salama (62), a Coptic Christian they abducted outside his house in Bir Al-Abd in northern Sinai on 8 November 2020.
The kidnappers posted a video of the execution on social media on 18 April but it is believed that Nabil may have been killed in March. They had demanded a ransom of 5 million Egyptian Pounds (approximately €265,000) but his family could not pay it and left town for safety on the advice of local security officials. Nabil's family owns several jewellery, clothing and mobile phone businesses in Bir Al-Abd and built the the town's only church, which serves around one hundred Coptic families living in the town.
One of Nabil's two sons, Peter, told Watani newspaper, "It was heart wrenching to see the execution of my father. He had never done anything wrong, in fact he loved to serve everyone and was loved by all in Bir al-Abd. My father was tortured by the terrorist group because his teeth appeared broken. We were forced to close our businesses and leave our homes to another city and we continue to receive threats."
Nabil's daughter Marina wrote on Facebook: "I will miss you, my father. You made us proud during your life with your virtues and in your martyrdom with your strong faith."
Execution video
Video footage shows Nabil kneeling in front of three armed and masked terrorists, with his hands tied. He gives his name and occupation and says he was captured three months and 11 days earlier, that he contributed to building the Church of the Virgin Mary in Bir Al-Abd and that the church is cooperating with the Egyptian army and intelligence service against Islamic State.
The leader states: "We thank the great Allah who ordered his followers to kill, and the kafirs [apostates] to be subjugated until they pay the jizya while down on their knees. This is a message to Crusaders in every spot on earth: as you fight you will be fought, and as you capture you will be captured. As for you, Egypt's Nassaara [Christians], this is your reward for supporting the Egyptian army." He then shoots Nabil in the back of the head with a Kalashnikov.
Islamic extremists have been fighting against the authorities and persecuting Christians for years in northern Sinai, where Egypt's security forces are waging a campaign against the jihadist groups, killing hundreds of suspected terrorists. Hundreds of Coptic families have had to leave their homes in the region in recent years and flee to safety.
Ministry of Interior pursues Nabil's killers 
Within days of the publication of the execution video, Egypt's Ministry of Interior announced that security forces had killed three of those involved in Nabil's execution, raising the question of why they only pursued his kidnappers after he was killed, and also raising questions of due process.
Security forces reportedly received information regarding the location of those involved in Nabil's killing and that they were planning other operations to target Copts, churches, armed forces and police checkpoints. They besieged a truck carrying the suspected terrorists, who opened fire, and in the heavy crossfire that followed three terrorists were killed. One of them was wearing an explosive belt, which exploded, and police found weapons in their possession. The Ministry of Interior said its forces were also pursuing other terrorists involved in Nabil's execution.
Copt released from captivity
Christian Solidarity Worldwide reports that Bakhit Aziz Georgy, a Copt abducted in August 2020, was released two months ago after a ransom was paid. He had been kidnapped by an armed gang in a 4×4 vehicle in the village of Al-Abtal in Ismailya Governorate. (A man named Youssef Semaan Gerges who was abducted with him was released after only a few days.)
Following Bakhit's release, he and his family moved to another city for security. His son was abducted four years ago and is still missing, while a cousin, Seif Milad, was kidnapped in 2013 and released after the payment of 300,000 Egyptian Pounds (approximately €13,750).
Read more about Egypt in Church in Chains' Egypt Country Profile.
(Ahram Online, Asia News, Christian Solidarity Worldwide, International Christian Concern, Watani)
Share this