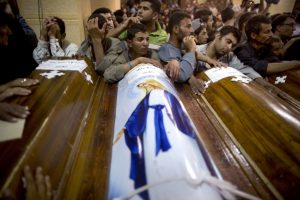 Egyptian Christians are mourning the 30 Copts killed in the bus attack on pilgrims travelling to Ascension Day services at St Samuel Monastery in Minya, southern Egypt, on 26 May. Around 25 others were injured. The attack took place at 9.30 am on a remote desert road near El Idwa, close to the border between Minya and Beni Suef provinces. Ten masked terrorists armed with machine guns and wearing military uniforms stopped and blocked a convoy of Coptic Christians consisting of a coach carrying families, a minibus with children and one adult, and a pickup truck carrying eight workers.
Attack
The militants ordered the Copts out of their vehicles and forced them at gunpoint to hand over jewellery, money and mobile phones. They separated the men from the women and children, forced the men to kneel and ordered them to recite the shahada (the Islamic statement of faith, which states "There is no god but Allah, and Mohammed is the messenger of Allah"). The men refused, saying, "We are Christians," and the militants shot them in the head, neck, or chest, including all eight workers from the pickup truck.
After shooting the men, the militants shot the women and children, including a four-year-old boy in his mother's arms. They shot him in the head. The terrorists apparently fled when they saw cars in the distance.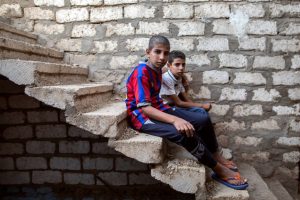 Fourteen-year-old Marco, whose father Ayad was driving the workers' truck and died in the attack, has been described as a hero for raising the alarm after the terrorists left the scene. He and his brother Mina (10) were travelling with their father. Their uncle described what happened: "The terrorists stopped the car and took Ayad away. Marco and Mina were there too. They told the children to run far away, so they did. After they saw the terrorists' cars abandoned in the middle of the desert, they returned. Marco took the car and drove for one kilometre until he got a phone signal. He contacted other villagers, told them what happened and then returned to wait by the bodies."
Fr Pernaba Fawzi Hanine, parish priest in Nazlet, a town mourning seven victims, said: "We must be proud of our beloved dead. None of them denied God. They died as believers. They are our martyrs." After the attack, angry Copts who gathered to welcome the bodies of their loved ones chanted their Christian version of the shahada: "There is no God but God. Christ is God."
Who was responsible?
Islamic State (IS) claimed responsibility for the attack, and witnesses described seeing Islamic State flags on the attackers' trucks. IS was also responsible for the Palm Sunday attacks in April, in which 49 people died in Tanta and Alexandria and over 120 were injured, and the December 2016 attack on a chapel attached to St Marks' Cathedral in Cairo, in which 28 Christians died and 65 were injured.
In late February and March 2017, hundreds of Christians fled North Sinai Province after a group calling itself Islamic State of Egypt posted videos and leaflets telling Copts to leave the region or be killed. The militants killed eight Copts in Al-Arish in Sinai. Elsewhere in Egypt, extremists murdered five Copts in under two weeks in January.
In a propaganda video released in February this year, IS militants vowed to wipe out Coptic Christians and "liberate Cairo".
Government response
Copts are complaining that security personnel were slow to respond to the bus attack. In the aftermath, President Abdel Fattah al-Sisi addressed the country, saying: "What you have seen today will not be without consequences, and the camps where those [terrorists] came from and where they trained have been very strongly hit."
The Egyptian air force bombed "terrorist bases" in Libya, which the authorities said were involved in planning and executing the Minya attack.
Milad Rizk, cousin of Ishaq Lamei, who was killed in the attack, complained about a lack of government action towards terrorists within Egypt. He said: "Terrorism is here in Egypt, but they can't speak about it, so they say 'we attacked the terrorists elsewhere'. If we talk, they tell us we are causing trouble. Why didn't they use a plane to try and find the criminals who must have hidden somewhere near to the monastery?"
Since the attack, Minya's security chief Major General Faisal Dewidar has been removed from his position. His transfer was part of a police reshuffle in which 13 other Interior Ministry officials were also removed from their posts and appointed elsewhere.
Courageous Copts
While Copts have long held that the authorities do not provide them with enough security, they are famed for choosing non-retaliation. After the Palm Sunday bombings, an Egyptian TV presenter responded to the news that a victim's wife had forgiven her husband's murderer by asking: "What are you Copts made of? Copts have endured what no one has."
Ashraf Ishaq lost his brother in the bus attack. "It is true we are peaceful, but this is not fair," he said, recalling how the security forces and the Health Ministry treated his brother's body. "His body was in the hospital from 10 am, and no death certificate was issued until 5 pm. When our priest asked the police officer present whether this was too much of a delay, he answered, 'Do you want to cause trouble?'" He added, "When we told the hospital that we wanted to bathe the bodies in preparation for burial, they told us there is no water in the hospital. We washed the bodies with water hoses that we connected to houses by the gate of the hospital. Would they accept that for a Muslim body?"
Milad Rizk accompanied the bodies from the site of the attack to the hospital, and criticised how the death certificates were written – some say the cause of death was circulatory failure, not gunshot wounds, which may affect compensation. "They told us they would change the certificates later, and that they just wrote this for now so they could bury them," he said. "Of course, changing certificates is difficult and can take months."
Despite attacks and ongoing discrimination, Copts courageously continue to identify publicly with their faith. They flock to church, tattoo crosses on their wrists and name their children after saints. However, attacks and discrimination take their toll, and many decide to emigrate.
Samuel Tadros is a senior fellow at the Hudson Institute's Center for Religious Freedom and a distinguished visiting fellow in Middle Eastern studies at the Hoover Institution. Writing in the Washington Post, he said: "Numbers are hard to determine, but based on my research, roughly 20 percent of Copts have already left Egypt in the past 50 years."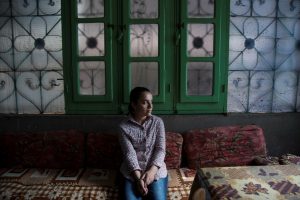 Secondary school student Wafaa Lamei (pictured) lives in Deir al-Ganous, a majority-Coptic village in Minya that lost seven residents in the bus attack, including Wafaa's father Ishaq. She said, "The first time I realised the world is a bad place was not when my father was killed, but when I started high school. We don't have one here, so I attended high school in a nearby village. This was the first time I heard obscenities, and verbal abuse that I cannot repeat."
A villager visiting Wafaa's home to offer conolences said, "We are grieving, though we take solace they are martyrs in heaven. But we are humans and citizens… There is no justice here. Christians are not equal to Muslims. The future of our children is dark."
(Ahram, Aleteia, Mada, Open Doors, Washington Post, World Watch Monitor)
Share this