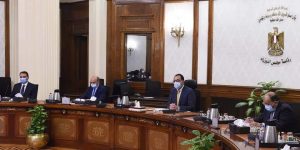 On 7 November, the cabinet-affiliated committee tasked with working on the legalisation of unlicensed churches in Egypt approved the legalisation of a new batch of 63 churches and affiliated service buildings, the 21st batch since the committee began work four years ago.
Prime Minister Mostafa Madbouly presided over the committee meeting (pictured), with those participating including the ministers of justice, local development, housing and parliamentary affairs, the secretary-general of the Supreme Council of Antiquities, and representatives of Christian denominations.
The decision brings the number of churches and affiliated service buildings approved for legalisation up to 2,021, out of a total 3,730 that applied for legalisation under the Law for Building and Restoring Churches that was passed by parliament in 2016.
The law was introduced to make it quicker and easier to obtain permission to construct and repair church buildings and to make provision for legalising the status of Egypt's approximately 5,000 unlicenced church buildings (including around 3,000 Coptic Orthodox churches). Christians are allowed to meet in unlicenced premises while applications are processed.
Before the law was passed, it was almost impossible for churches to obtain permission from the government to construct new buildings or repair existing ones. Building a mosque requires only a regular planning permit, but until recently building a church required a presidential permit and years of paperwork. Many Christians had no option but to meet for worship in unlicenced premises, and they were sometimes attacked by Muslim mobs that suspected them of using homes for church services.
Church built in new prison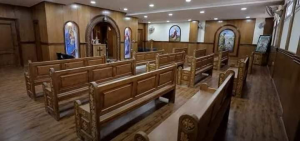 In another encouraging step towards the recognition of Egypt's Christians, who comprise approximately ten percent of the population, a church premises has been built in Egypt's new prison complex in Wadi al-Natroun in the Western Desert, 100 km northwest of Cairo – the first time an Egyptian prison has included a church. Christian ministers have always been allowed to provide pastoral care and communion for Christian prisoners, but only in a room designated by the prison authorities.
The new Correction and Rehabilitation Centre is the first of a series of modern prisons planned across Egypt and will accommodate the inmates of twelve current prisons, which will be closed and their sites sold – Watani reports that the value of the sites exceeds the cost of building and operating the new prisons.
The new prison has been designed to provide cells with reasonable space and natural light and ventilation, a mosque and a church, spaces for learning and hobbies, sports facilities and workshops for vocational and technical training.
(Watani)
Share this