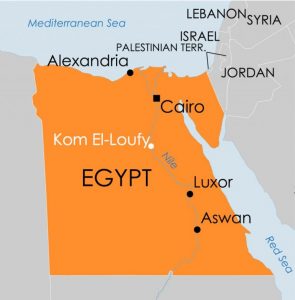 Getting permission to open a church in Egypt is a difficult and controversial process. This was highlighted by two recent cases, one in the governorate of Minya and the other in Giza.
In December, ten years after filing an application to construct a church building, the Copts of Kom El-Loufy in Minya received permission to build on a plot outside the town. Kom El-Loufy's 1,600 Copts have no church building, and have had to travel to another village to attend services.
Also in December, in a village in Giza, a mob of hundreds of Muslims attacked a building used for church services and critically injured three Copts. Although the village has about 3,000 Christians, it does not have a recognised church building.
New church building for Kom El-Loufy
On 21 December, Copts in the town of Kom El-Loufy, 250 km south of Cairo, started constructing a church building, twelve years after their previous building was closed.
Kom El-Loufy's Copts have endured persecution from local Muslims over the years, including the burning of several homes. In April 2017, local Muslims attacked Christians meeting at a house to mark Holy Thursday. The attackers set fire to three houses and threw stones, injuring eight Christians, two of whom sustained broken limbs.
In June 2016, local Muslims burned down four houses newly built by four Coptic brothers after rumours circulated that one of the houses was to be used as a church. The police made the Khalaf brothers, who were building homes for their families, pledge that the houses would be used for residence and not for "religious rites".
During a "reconciliation meeting" between Kom El-Loufy's Copts and Muslims in mid December, the Copts were offered a plot of land 700 metres away from the village on which to construct a new church building. They accepted, and started digging the foundations.
As part of the deal, the Copts have withdrawn charges against 23 Muslims involved in the 2016 arson case – they dropped the charges a day before Minya Criminal Court was due to rule, and told Coptic news site Watani that they had made the decision for the sake of "social peace", adding that they feared a court ruling would fuel religious tensions. The defendants still face charges of assaulting police officers and damaging police vehicles.
Fr Feltaws Ibrahim, priest of Saint Abu Sefein Coptic Orthodox church in the nearby village of Ezzbet Rafla, who hosted Kom El-Loufy's Copts while they were without a building, said: "Thank God so much for this new location and that all parties have now agreed."
The Copts initially rejected the offer of a plot of land for a new church 2 km outside the village, made during a "reconciliation meeting" in April 2017. Gamal Samy, a Christian who lives in Kom El-Loufy, told World Watch Monitor, "There are no facilities in that place. No road, no lighting, and it is surrounded by agricultural land with tall plants. I would not allow my family to go and pray in such an isolated place. There are problems with securing churches in urban areas in Egypt – where attacks have happened – and it is very easy for terrorists to come and bomb an isolated church in the middle of a field."
Minya governorate, which has a population of 5 million, is 35-40 per cent Coptic. It has experienced the greatest number of attacks on Christians – more than 75 in the past six years.
Giza attack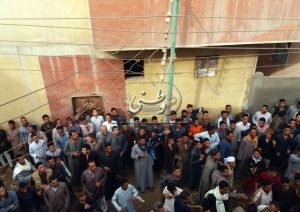 On 22 December, following Muslim noon prayers in the village of Kafr El-Waselin in Giza governorate, a mob of hundreds gathered outside a building used by the congregation of St Tadros, which does not have its own church building. The congregation meets in a service building donated to the diocese in 2001, and Christians have been allowed to pray there since 2002.
The mob broke into the building, destroyed its contents and critically injured three Copts. The previous day, extremists had posted threats on Facebook, claiming a bell was to be erected on the building and inciting villagers against the church. Local priest Fr Morcos Saad reported the threats and three police officers arrived to guard the building.
An eyewitness stated that on the day of the attack the three police guards disappeared, and at 1.15 pm Muslims gathered in front of the building, chanting "Allah Akbar, Allah Akbar, we would demolish it, we would pray the Asr prayer at it." (The Asr is the daily afternoon prayer.)
They broke down the door and looted the building, taking all the new clothes that were waiting to be distributed to poor people before Christmas. They threw Bibles and other Christian books outside and trampled on them, and used clubs to attack three Copts living next door, who were hospitalised in a critical condition. It took more than an hour for security forces to arrive.
The police arrested 28 men, who are being investigated on charges of mobbing, beating, using religion to stoke sectarian sedition, and breaking into and destroying the property of others.
Security sources in Giza Security Directorate said local residents thought the owner of the building was turning it into a church and objected.
One local Christian said, "The Muslim villagers have threatened us that they are going to burn the service building. We are afraid that they will attack us again as soon as the security forces leave the village."
Another said, "We feel that our rights are lost and we aren't protected."
Building churches in Egypt
The building and repairing of churches in Egypt has been a controversial issue for decades. Churches have faced great difficulties in obtaining government permits to construct new buildings and repair existing ones – it has been almost impossible to obtain a licence to build a new church. Building a mosque requires only a regular planning permit, but until recently building a church required a presidential permit and years of paperwork, while the authorities procrastinated and sidelined applications. Many Christians have been attacked by Muslim mobs suspecting them of carrying out unauthorised repairs or using homes for church services.
On 30 August 2016, the Egyptian parliament passed legislation intended to make it quicker and easier to obtain permission to construct and repair church buildings. In October 2017, a cabinet committee met to start work on the legalisation of unlicensed churches. The following month, 21 evangelical churches received approval from the Minya Governor to restore, expand and rebuild. Some had been waiting for more than twenty years for a permit.
While many welcomed the legislation, some Copts and human rights NGOs consider it restrictive, for instance in regard to stipulations about the size of new church buildings. Also, they are concerned that the law may actually entrench discrimination: instead of requiring presidential permission, applications must now be submitted to provincial governors, who are required to consider "the preservation of security and public order", which might give grounds for refusal if governors are pressurised by local Muslims resistant to church building. These restrictive conditions do not apply to applications for mosque building.
(Egyptian Streets/International Christian Concern/Watani/World Watch Monitor)
Share this