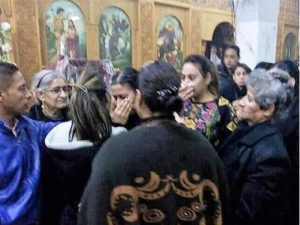 Islamic State militants have killed seven Coptic Christians in Al-Arish, North Sinai Province, since 31 January. Al-Arish is a city of about 165,000 people, located 48km from the Rafah Crossing Point on the border with Gaza.
On 31 January, masked men shot Wael Youssef (35) dead in his grocery shop in central Al-Arish, in front of his wife and one of their two sons.
On 12 February, a group of masked and armed jihadis stopped Bahgat Zakhar (40) as he drove away from his veterinary clinic through the southern outskirts of Al-Arish. They shot him in the head, neck and stomach, killing him instantly.
On 13 February, Adel Shawqy (57), who worked as a day labourer, was shot in the head.
On 16 February, Gamal Tawfiq Girgis (50), a teacher and shoe shop owner, was shot dead in a crowded market on his way to the school where he worked. Masked men shot him in the head and chest and he died instantly. The attack happened less than 200 metres from a heavily defended army post.
On 22 February, masked gunmen entered the home of Saad Hakim Hana (65) and his son Medhat (45) and shot them dead.
On 23 February, Kamal Youssef (40), a plumber, was shot dead in front of his wife and children at his home, which the killers then torched.
Elsewhere in Egypt, five Copts were killed in under two weeks in January. Unknown attackers cut their throats, but left money and valuables behind.
Islamic State of Egypt releases video
On 19 February, a group calling itself Islamic State of Egypt released a twenty-minute video threatening Coptic Christians and describing them as "worshippers of the cross". A masked speaker wearing camouflage vowed to kill all Christians in Sinai and to "liberate Cairo from idolaters". He said, "We will chase you. We will put an end to you. You won't escape from us."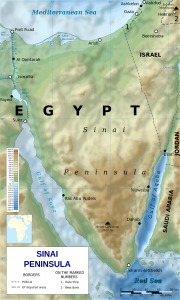 It is believed that Islamic State of Egypt is the new name for the group formerly called Islamic State Wilayet Sinai (IS in the province of Sinai), and that the change of name reflects the group's intention to spread terror beyond Sinai, to all Egypt. Islamic State Wilayet Sinai was previously known as Ansar Bait al-Maqdis.
The video includes a recording of the suicide statement of Mahmoud Shafiq (22), blamed for the bombing of Boutrossiya church in Cairo's Coptic Cathedral complex on 11 December, in which 23 Christians were killed. At least five more Christians died of their injuries in the days that followed.
Islamic State of Egypt has launched a campaign, "Tracking Down the Apostates of Egypt", calling on sympathisers across Egypt to: "Support the jihadis and report the information of apostates around you, be they soldiers, agents, conscripts, policemen, officers, bank managers, Christian leaders, atheists, crusaders or Zionists who live among you."
Saad Hakim Hana's widow gives interview
Nabila Fawzi Hana (65) described the attack on her home to World Watch Monitor. At about 10.30 pm, she heard loud knocking at the door. Her son Medhat opened it and two masked men came into the hall. Without asking any questions, one of them shot Medhat in the head, killing him instantly.
Nabila ran into the hall and found his body. The gunmen told her to leave the house and pulled her outside, telling her not to speak to anyone or go back inside. Two more masked men were waiting in a car near the house.
She said, "The men went back inside to find my husband. I heard him plead, 'I'm a sick old man,' but they didn't respond. They shot him twice in the head. Then they came out and asked me if I am a Christian. I said I was, then they asked me what my relationship was to the two men. 'They are my son and husband,' I told them. They asked their names and I answered. One of them was holding a list of many names and when I gave their names, he looked at the list and ticked them off with a pen."
The two men then pulled off Nabila's wedding ring, looted the house and set it on fire.
Nabila and her daughter Abeer fled their homes. The next day, masked men knocked on the door of Abeer's home. Finding her and her husband gone, they went to a neighbour's flat, but she and her husband and children had fled just over an hour before, taking clothes and important documents. The gunmen then broke into the nearby home of Kamal Youssef and shot him dead as he tried to escape.
Nabila said she felt abandoned by security forces.
(Daily News Egypt, Middle East Concern, Morning Star News, Religious Liberty Prayer Bulletin, Wataninet, Wikipedia [map], World Watch Monitor)
Share this