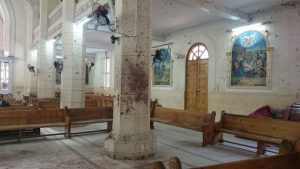 St George's Cathedral, Tanta, has reopened eight months after the Palm Sunday suicide bombing that killed 28 Christians and injured 74 others.
The Coptic Orthodox cathedral in Tanta, capital of Gharbia governorate, 90 km north of Cairo, was one of two churches bombed on Palm Sunday, 9 April 2017. The other was St Mark's Cathedral in Alexandria, 130 km northwest of Tanta. Between the two attacks, 49 people were killed and over 100 injured. Terrorists affiliated with Islamic State claimed responsibility.
The reopening and reconsecration were celebrated on Saturday 2 December, and St George's was renamed the Cathedral of St George and the Martyrs. Its blood-splattered pillars have been left untouched as a memorial. Security was tightened ahead of the celebration, with security forces deployed at the entrances and exits of streets leading to the church as well as checkpoints and mobile police patrols.
Local bishop Anba Pola was joined at the reopening by Major General Ahmed Saqr (Governor of Gharbia), Major General Tariq Hassouna (Head of Gharbia Security Directorate) and several Islamic clerics. Governor Saqr expressed his happiness to be part of the ceremony and said the Egyptian people were all one and, as such, were invincible.
St George's was severely damaged in the bombing, and the Engineers Authority of the Armed Forces was tasked with the renovation work. Anba Pola told DMC TV, "Everyone is amazed to see the church rise from the ashes, and the ruins metamorphose into a lofty, exceptionally beautiful building." He praised the Armed Forces' restoration efforts, noting that the 70-year-old church building is now better than ever, and quoted John 16 v 20: "Very truly I tell you, you will weep and mourn while the world rejoices. You will grieve, but your grief will turn to joy."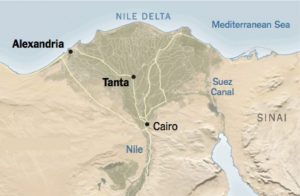 Sufficient initial repairs were carried out at St George's and at St Mark's in Alexandria during the week after the attack that large congregations were able to gather in both on Easter Eve. While churches throughout Egypt held their usual services on Easter Eve – with heavy security – they cancelled Easter Sunday celebrations, simply opening their buildings on Easter Sunday for Egyptians to visit and extend condolences.
Almost 4,000 churches apply for licences under new law
For many years, Egyptian churches have faced great difficulties in obtaining government permission to construct new buildings and repair existing ones; it has been almost impossible to obtain a licence to build a new church. Obstructed by complex bureaucracy, Copts have seen their church buildings deteriorate and have had to resort to constructing new ones without licence or worshipping in house churches. Muslim mobs have attacked some Christians they suspected of carrying out unauthorised repairs or using homes for church services.
On 30 August 2016, the Egyptian parliament passed a new Law for Building and Restoring Churches. It is intended to make it quicker and easier for churches to obtain licences to construct and repair buildings, and requires non-licensed churches to submit applications to legalise their status. Since the law was passed, 3730 churches have applied – 2,600 Coptic Orthodox, 1,020 Protestant and 110 Catholic. The deadline for applications was September 2017.
The Cabinet-affiliated committee in charge of examining the cases of non-licensed churches held its first meeting in October 2017 and its second on 28 November. Coptic priest Mikhail Antoun, one of those in charge of listing non-licensed Coptic Orthodox churches, told Watani that the committee is in the process of conducting field inspections and studying the structural safety reports of the churches requiring licensing. He said: "We are waiting for the final inspection and structural safety reports in order for licences to be issued accordingly."
Lawyer Gamil Halim, legal consultant to the Catholic church, said the first batch of licences could be issued within the next two months and that "the rest will follow in turn", but Nabil Naguib, media representative of the Evangelical Church in Egypt, said: "With close to 3,800 churches awaiting legalisation, it's bound to be a long process."
(Egypt Independent/Wataninet/World Watch Monitor)
Share this