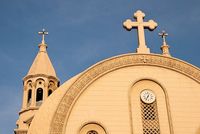 On 3 July 2011 Egypt's Supreme Administrative Court ruled in favour of Christian reconverts, allowing them to be identified as Christians on their national ID cards and birth certificates.
This ruling will benefit a significant number of Christians in Egypt who converted to Islam in order to marry Muslims or secure jobs and later, when their circumstances changed, wished to reconvert to Christianity but were not allowed to do so. It will also benefit Coptic teenage girls rescued by their families after being taken by Muslim men and forced to become Muslims and marry them.
The court stated that the interior ministry must implement the order automatically in such cases without reverting to the judiciary for individual verdicts. The court criticised the ministry for refusing to implement similar verdicts passed previously.
Lawyer Peter El-Naggar said that Copts have been fighting for this verdict in court since 2004 and that several similar verdicts, issued in 2008, have not been implemented. "The problem with Egypt's judicial system is that each judge interprets the laws based on biases and personal beliefs," he said.
The Supreme Administrative Court issued a similar verdict on 12 February, but the State Council's fatwa committee (which is a lesser authority) later issued a contradictory verdict saying that each case must be reviewed individually by the court. The Supreme Administrative Court's ruling of 3 July was issued to overturn the ruling of the fatwa committee.
Peter El-Naggar is optimistic that the new court order will be implemented, saying that respect for the judicial system has improved since the revolution. However, Bishop Filopateer Gamil of the Giza Archbishopric is sceptical that the authorities will implement the verdict. "We've always commended our judicial system even before the revolution," he told Daily News Egypt. "However the problem is with the authorities who refuse to implement the court orders issued in our favour."
Bishop Filopateer said, "When Christians decide to convert to Islam, they receive support from everyone including the authorities and their ID cards are changed to include their new religion in no time. When it's the other way round, Christians face obstacles and difficulties that obstruct their freedom of belief."
Coptic teenage girls who are taken by Muslim men face great difficulty in getting the religion section of their ID cards changed back to Christianity, when they return to their families. Another problem arises amongst Coptic teenagers whose fathers become Muslims, because children of fathers who leave Christianity for Islam are automatically registered as Muslims on their ID cards when they turn 16. At the end of June, Peter El-Naggar filed a complaint to the Prosecutor General demanding the rights of Coptic teenagers whose fathers had become Muslims to choose the religion documented on their ID cards when they turn 16 without having to obtain a court order, which can be a lengthy procedure.
Earlier in June, six Christians who had become Muslims and then reverted to Christianity filed a complaint against the interior ministry for not implementing a 2008 court order allowing them to be identified as Christians on their ID cards. The complaint is being investigated, and if the interior minister and his assistant are found guilty, they could receive jail sentences. (Assyrian International News Agency)
Share this