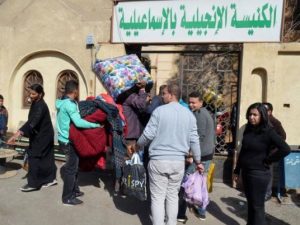 Terrified Christians are fleeing Sinai following Islamic State's killing of seven Copts in Al-Arish, North Sinai Province, between 31 January and 23 February.
More than 118 of Al-Arish's 160 Christian families have fled, and those who cannot leave have sent their children away to relatives outside Sinai. Most of the fleeing Copts headed for Ismailia, 200km away on the west bank of the Suez Canal. Others fled to Suez and Port Said. Terrorists have threatened taxi and minibus drivers with death if they take fleeing Christians from Al-Arish to Ismailia.
About seventy families (250 people) sought aid and shelter at Ismailia's Evangelical Church. Church deacon Nabil Shukrallah said, "They've come running with their children. It's a very difficult situation. We're expecting fifty or sixty more." Others found refuge in Saint Antonios Church, in the homes of local residents or in rented apartments and youth hostels.
As the Copts arrived in Ismailia, pro-Islamic State slogans were sprayed on the walls of Al-Mamar Square and in the Coptic cemetery. Ismailia governor Major-General Yassin Taher denounced the graffiti and ordered that it be removed immediately.
Christians from all over Egypt have sent aid to the displaced families.
Government action
President Sisi met Prime Minister Sherif Ismail to discuss the plight of the displaced families, and ordered that all their needs be met. The Cabinet formed an operations room to follow up on the order, working with local authorities and the church.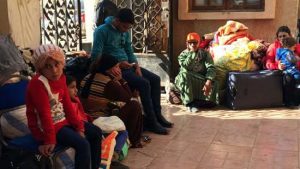 On 25 February, Minister of Social Solidarity Ghada Wali visited Ismailia and met the displaced families. She said the Youth Ministry had opened its youth hostels to receive them, and that the Social Solidarity Ministry was opening new refuge homes for them. The ministry also pledged to pay the rents of flats in which many of the families are staying. She said arrangements were being made for schoolchildren and students to join schools and universities in their new locations, with the Ministry of Social Solidarity paying the fees.
On 26 February, Health Minister Ahmed Emad Eddin Radi sent a convoy of 26 mobile medical clinics to Ismailia to spend three days attending to the displaced Copts. He said Health Ministry hospitals would offer free treatment for all who needed it.
Minister of Labour Force Muhammad Saafan promised that his ministry would help displaced people to find work in their host towns and would provide transport if necessary. He announced eighty private sector jobs in Ismailia for the relocated Copts.
Human rights delegation
A delegation of members of the Human Rights Sector affiliated to the Ministry of Interior and members of the National Council for Human Rights met sixty displaced Coptic families, inspected their living conditions and expressed support, pledging to meet the families' demands.
The Coptic families told the delegation that they left Al-Arish not only because of the increasing number of attacks but also because of the distribution of flyers threatening Copts, including threats to kill forty specified Christians.
Terrorism in Sinai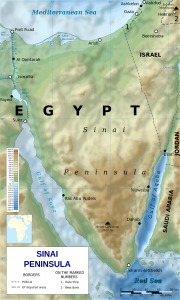 Egypt's government is involved in counter-insurgency operations in Sinai against the Muslim Brotherhood and Salafi groups fighting for Islamic State. Terrorists repeatedly attack military outposts in the Sinai and abduct or kill civilians suspected of working with the security forces, and scores of security force members have been killed.
For several years, fliers have been circulating in Sinai's towns and villages urging Christians to leave or die. In 2012, fliers circulated giving Copts just 48 hours to leave Al-Arish.
In July 2013, Christians fled Rafah, Sheikh Zuwayed and Al-Arish following the murder of two Copts. Fr Mina Aboud Sharubim was shot dead in Al-Arish on 6 July 2013, and five days later Christian businessman Magdy Lamei's decapitated body was found on a street – he had been abducted and beheaded in his hometown of Sheikh Zuwayed, near Rafah. Islamists also burned Al-Arish's Mar-Girgis Church.
Relative stability returned to the region in 2014, with the approval of Egypt's new constitution in January and the election of President Abdel-Fattah al-Sisi in June. Copts who had left North Sinai returned and the church was repaired and reopened. However, several Copts in North Sinai were kidnapped for ransom and several who could not be ransomed were killed. In June 2016, Fr Raphail Moussa was shot dead in the street in Al-Arish.
In November 2016, terrorists killed Suleiman Abu Haraz, a highly respected 100-year-old Sufi Muslim leader in Al-Arish. Shortly afterwards they issued a threat against Sufi Muslims in Egypt, saying they must renounce their ways or be killed.
In late February 2017, militants stopped female teachers travelling to work and threatened them with severe mistreatment if they do not wear Islamic dress or travel with male relatives.
(Daily News Egypt, Middle East Concern, Morning Star News, Religious Liberty Prayer Bulletin, Wataninet, Wikipedia [map], World Watch Monitor)
Share this