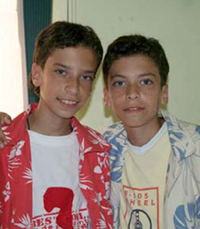 After several years of legal battles, Coptic twins Andrew and Mario Ramses (17) have been recognised as Christians by the authorities, and on 11 October they were issued with new ID cards that state their religious registration as "Christian".
The boys' father, Medhat Ramses Labib, turned from Christianity to Islam after an affair with a Muslim woman, whom he married after divorcing their mother, Kamilia Gaballah. When Kamilia, a Christian, refused to turn to Islam and become his second wife, a custody battle ensued. Andrew and Mario, practising Christians who served as deacons in a Coptic church in Alexandria, did not wish to change their religion, but following their parents' divorce, in 2007 their father changed their religious registration to "Muslim". (Under Egyptian law, the religious identity of children is based on that of their father.)
In custody cases, Sharia law generally favours the father, and in September 2008 the Alexandria Appeals court granted custody of Andrew and Mario to their father, due to his becoming a Muslim. However, that decision was overturned in a landmark ruling in 2009 and Kamilia won custody. A court ruled in 2010 that the boys' religious registration should remain "Muslim", to the great disappointment of Andrew and Mario.
The new identity cards were made possible because on 3 July the Supreme Administrative Court ruled in favour of those seeking to have their religious registration officially changed back to "Christian". The ruling applies to anyone who was originally registered as "Christian", but whose registration was subsequently changed to "Muslim" (whether voluntarily or involuntarily). It explicitly overrides all previous rulings. More than 2,500 people were part of the application to the Supreme Administrative Court. Some besides Andrew and Mario have received their new ID cards, but it is not known how many.
Andrew and Mario should now be treated as Christians within the education system – in 2008 they were held back for a school year after refusing to take an end-of-year examination in Islamics class, but now they should be exempt. A longer-term implication is that if they have children of their own, the children can be registered as Christians, which would not have been possible as long as Andrew and Mario were registered as Muslims. (Assyrian International News Agency, Christian Solidarity Worldwide, Middle East Concern)
Share this