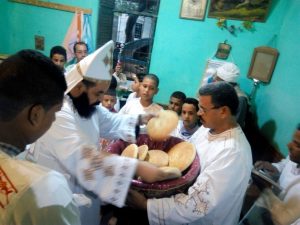 The Coptic Orthodox church of St Mary and St Michael in the village of al-Furn in Abu-Qurqas, Minya governorate, 250 km south of Cairo, has reopened after police closed it "for security reasons" in August.
Police banned al-Furn's 400 Copts from the premises on Sunday 20 August, saying they lacked a permit to use the home to practise religious rites. The official police report shows that the police shut the church for the Copts' protection, following complaints by local Muslims.
The Copts celebrated the reopening on the morning of Sunday 10 September, with a service led by Fr Daniel Babawy (pictured). Minya police provided security in case of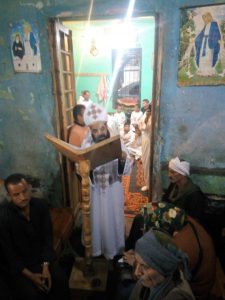 attack, but some Muslims visited the Copts to congratulate them. The church meets in a private home owned by the Diocese of Minya and Abu-Qurqas – church buildings exist only in big villages in Minya governorate, while in smaller ones, services are held in homes.
Anba Paula church in Minya's Kidwan village also reopened on Sunday 10 September. Kidwan Copts, like many others, meet in an unlicensed building, which was used for worship for several years before police closed it in March 2012 for security reasons, claiming local Muslims were threatening violence if it reopened. Scores of Muslim villagers had attacked the Copts for holding a funeral service in the premises, which they plundered, destroying all church property and breaking the iron gate.
On 10 September, following the reopening of both churches, Anba Macarius, Bishop-General of Minya and Abu-Qurqas, said in a statement that "the Copts of Minya and Abu-Qurqas offer their thanks to President Abdel-Fattah al-Sisi for his response to their call for help and for his understanding of their suffering". The statement also thanked Minya Governor Essam al-Bedeiwi, Interior Minister Magdy Abdel-Ghaffar and local security officials, and said the Copts were grateful for the official promise to open other closed churches.
Minya church closures
The governorate of Minya has a population of five million people, of whom 35-40 per cent are Copts. In recent years, many of Minya's churches have been closed by security order because they lacked security approval or were considered offensive to Muslims and therefore a threat to social harmony.
The Chief of the American Coptic Association, Adel Ageeb, says the security authorities have closed down over sixty churches in Egypt, fearing extremist action if they are reopened. Chief of the Maspero Youth Federation Mina Magdy says the authorities have closed 67 churches since 2012.
On 13 August, Bishop Anba Macarius issued a statement in which he protested about church closures. He said that in his parish alone (Minya city and its immediate surroundings) 15 church premises have been closed by security order and seventy villages have no place to hold Christian worship.
(Copts United/Watani/World Watch Monitor)
Share this