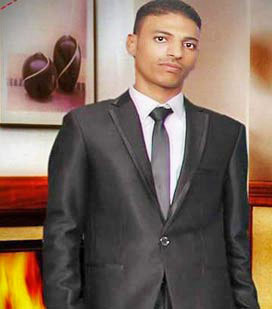 Bassem Herz Attalhah (27) was shot dead in Al Arish, capital of the North Sinai Governorate, at 9pm on Saturday 13 January after three Islamist gunmen stopped him and asked if he was a Christian.
Bassem was on his way home from work with his brother, Osama, and a Muslim friend, when three men aged about 23 to 25 years old in black jackets called to them. Two of the young men were carrying automatic weapons, the third had a pistol, and their faces were uncovered. Because the men were unmasked, the brothers thought they were police.
They asked to see Bassem's hand, as many Copts in Egypt bear a small tattoo of a cross on their wrists. Bassem showed them his cross. After seeing his tattoo, the militants asked him if he was a Christian, and he replied that he was. The militants dismissed the Muslim, identified only as Mohamed, after confirming that he was not a Christian. The gunmen then asked Bassem's brother to show them his hand. Bassem mentioned that they should leave his brother alone because he has five children.
"I had a cross further up my arm, but at the top of my hand the sleeve covered the wrist," Osama said, and as the gunmen apparently did not realise the two men were brothers, they thought he was a Muslim. "Then they fired two shots next to my leg," he said. "They told me to leave."
The militants then shot Bassem in the head, killing him instantly. "My brother happened to fall in front of me, and I could not do anything," Osama said. "They were looking for a Copt to kill, and as I ran I was on my way to the ground from the shock."
Bassem's mother fainted when she learned about his murder and had to be taken to hospital. "Our house turned into screaming and crying. We did not imagine that what happened had happened. The gunmen were walking in the street without any objection, and their faces were open to everyone. They were not arrested," said Osama.
Tributes paid to "a very good man"
"We lost a person dear to our hearts. My brother Bassem was a very good and kind man. He had a strong relationship with God. He was always reading in the Bible, praying and going to the church. He was loved by all people," Osama said.
When Bassem's close friend Milad Wasfi heard he had been killed, he could not believe it and called his friend's phone. His call was answered, but not by his friend. "The terrorists answered me and said they belong to State of Sinai and promised to kill more Copts before they put down the phone".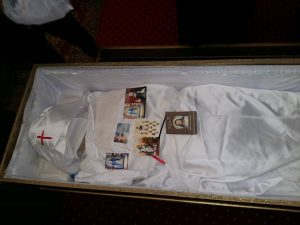 Bassem's funeral took place on Monday 15 January. Milad paid tribute to his dead friend: "Bassem was a very good man. Honest, quiet, modest, a light-hearted person and close friend to me. From early childhood he loved the Church and he was a man of prayer and worship. He didn't renounce the faith and didn't deny his Lord Jesus Christ. He didn't fear death. Actually, he didn't die but has won the real life in Heaven, enjoying being with Jesus. We pray that God will comfort us [and] thank God for saving the life of Osama, to care for his five children and his parents."
Bassem had fled Al-Arish in March 2017 along with most of its Coptic residents following the target killings of seven Copts by Islamic State militants. He and his extended family went to the Suez Canal town of Ismailiya, then later moved to Cairo where the church helped them relocate. However, neither he nor his older brother Osama could find adequate work, so they decided to go back to Al-Arish. Finding the town relatively calm after the Egyptian military and police had conducted several strikes against the jihadis, they brought their family home in September 2017, settled down, and reopened their mobile phone repair shop for business.
A Coptic priest in Al-Arish summarised the mood after Bassem's murder: "The situation has become so dangerous after the killing of Bassem. There is a state of terror and panic after this incident. Those militants… want to remove Christians from Al-Arish. Killing Bassem was a threatening message from them to intimidate Christians… and to say to anyone from the displaced families who are thinking of returning back to el-Arish [that] 'your fate will be the fate of Bassem when you return'. After killing Bassem, all the displaced Christian families lost hope to return back to their homes."
(Copts United/International Christian Concern/Morning Star News/Watani/World Watch Monitor)
Share this