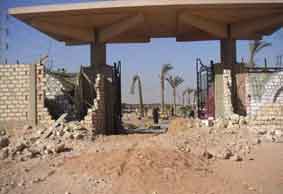 The Egyptian Ambassador, Mr. Ibrahim Khairat, told CCFC today of his shock at the contents of a dossier (delivered to the Embassy today) detailing (in text and photographs) the latest attack on the Patmos Centre last Monday.

He expressed particular sadness about the death of Kirilos Daoud, a staff member at the centre, during the attack.

Mr. Khairat emphasised that it was the duty of the Egyptian government to protect all Egyptians, regardless of religion.

Returning to the dossier, Mr. Khairat said If the contents of the dossier are true, the situation is unacceptable to the Egyptian President, Prime Minister and Government.

Mr. Khairat gave assurances that he would treat the matter seriously, forward the dossier to the Egyptian government and report the government's response to CCFC as soon as possible.
Share this