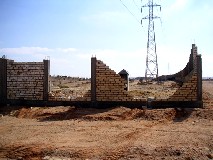 The Egyptian Army has once again carried out a totally unprovoked attack on the Patmos Christian Centre 30km to the east of Cairo.
Just after midnight in the early hours of Tuesday 18 November an army dump truck was driven repeatedly into the perimeter wall surrounding the Patmos Christian Centre.
Considerable damage was caused, including the destruction of one of the reinforced concrete pillars.
This is the eighth attack on the centre in the past six and a half years. Soldiers from the local army unit are seeking to destroy the wall supposedly in order to conform to a new law passed on 25 January 2003 which requires all buildings to be at least 100 metres from the Cairo-Suez road.  The wall stands 50 metres from the road and was built ten years ago in full accordance with the law at the time.
Workers at the centre point out that the local army barracks'Äö own walls also stand 50 metres from the road and no attempt has been made to demolish these.  Similarly many other buildings in the area are much closer to the road, including some 15 mosques which stand only 5 ÀÜ 10 metres from the road.  Likewise no attempts have been made to demolish any of these buildings.
Church leaders say that the Minister of Defence, who has been opposed to the centre since 1997, ordered extreme and conservative Muslim officers from the local army unit to enforce the law on the Patmos Centre.  They believe the repeated attacks are a result of anti-Christian prejudice amongst Muslim officers rather than a simple disagreement over building regulations.  On the other hand other government representatives, includingthe President'Äös office and the Ministry of the Interior, have intervened positively in the past to protect the centre from intimidation and attacks by the military.
The Patmos Centre has been serving the local community in Egypt for fifteen years.  The centre is providing care and support for mentally and physically handicapped children and orphans, and is legally registered with the Egyptian authorities.  It receives between 500 and 1000 visitors every day. (News from Barnabas Fund)
CCFC has written to the Egyptian Ambassador seeking an urgent meeting about this attack.
Share this