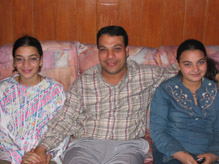 All 22 people arrested in October in connection with allegations of forging identity papers for Christian converts from Islam have now been released on bail – apart from one Muslim government official (with diabetes) who died in prison after suffering a beating.

Mariam Girgis Makar (aged 30) was the last to be released on Monday 8 December – she had been held for 45 days and appeared to be well despite suffering degradation and torture while in prison. It is unclear if Mariam and her husband, Yusuf, will face criminal charges. Yusuf is shown in photo after being reunited with their daughters, Marina and Sarah.

It is prohibited under Egyptian law for a Muslim to change his or her religious identity. (Compass/CSW)

The Egyptian Ambassador in Dublin has not responded to a request from CCFC for a meeting to discuss this situation.
Share this