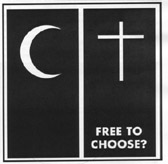 Today, in Dublin, David Turner and Bert Van Embden (CCFC) presented the Free to Choose petition to the Egyptian Embassy.
The petition document, which has been signed by 2,185 people in Ireland calls for Muslims who choose to convert to another faith to be free to do so without having to face a lifetime of fear as a result.
The petition was launched a year ago on behalf of Muslims who convert to another faith (apostates) who face serious persecution and massive prejudice in many countries around the world.
The Irish petition is part of an international petition (Co-ordinated by Barnabas Fund) which has been signed by 88,890 people from 32 countries.The international was presented to Louise Arbour, UN High Commissioner for Human Rights, in Geneva in late July.
In Dublin, the petition was received by Mr Hazem Zaki, a diplomat at the Egyptian Embassy who said that he would pass it on to the competent authorities in Egypt. The petition was accompanied by a dossier documenting individual cases of the violation of human rights of Christians in Egypt. These included the case of 17 year-old Heidi Salib, a Coptic Christian girl, who has been missing since early June – feared kidnapped by Muslim men.
Mr. Zaki told the CCFC delegation that the Egyptian government is committed to supporting human rights and said that it had recently established a national council for human rights – headed by Botros Botros Ghali (Former United Nations Secretary General).
David Turner expressed the hope that the Egyptian government will take steps to ensure that the persecution of Christians – outlined in the dossier – will soon be ended.
Share this